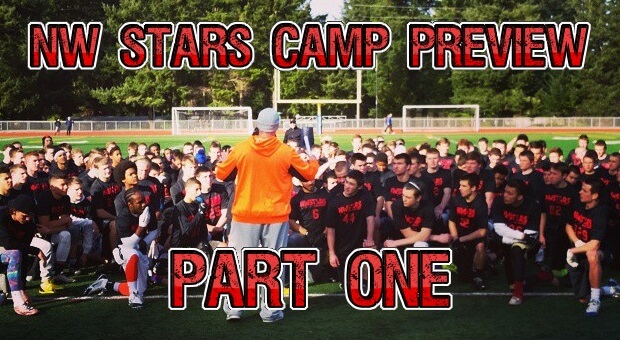 The NW Stars Camp is just under two weeks away and I want to get started on a preview of the athletes that will be in attendance. For more information on the event visit NWStarsCamp.com by clicking the link.
This list is not a list of everyone that has signed up, nor will I be mentioning everyone. For an athlete to be mentioned in this, I have either seen them in person at a game or an event, or I have viewed actual game film, not just highlights.
Cedric Brooks (6'2″ 205, 2016 QB/ATH) Parkrose – Click for Highlights – Brooks is one of the better all-around athletes in Oregon and a highly skilled dual-threat QB. Brooks has the athleticism to move to WR or even DB, but make no mistake, he could play QB at a very high level.
Taj Hoard (6'0″ 225, 2017 LB) Gonzaga Prep – Click for Highlights – Hoard was a key part of a very tough Gonzaga Prep defense that led the Bullpups to a 4A State Championship. Taj plays with good speed, intensity and really likes to lay the hammer. He has the ability to get to the sidelines and is one of the better LB's in the 2017 recruiting class.
Zach White (6'3″ 295, 2016 OL/DL) Tahoma – Click for Highlights – White projects best on the interior of the OL, but is very capable of playing DT. White has more mean and nasty than most HS linemen, and does a great job sustaining his block. He is athletic for his size, very strong and works hard on and off the field.
Ben Wilson (6'1″ 205, 2018 LB) Sumner – Click for Highlights – Wilson could very easily be the state's top LB from the 2018 recruiting class, and could arguably be the best in the state regardless of class. He has good size, speed, instincts and is a ferocious hitter. Wilson does a great job getting sideline-to-sideline and has the agility and quickness to cover receivers.
Amir Matheney (6'2″ 298, 2017 DT) Olympia – Click for Highlights – Matheney reminds me a lot of Bellevue alum Marcus Griffin (University of Arizona). He isn't a one trick pony and excels in both stuffing the run game and getting after the QB. I've seen Matheney at a few different events over the past few years, and he seems to get bigger, stronger and faster at each event.
Maceo Thomas-Murphy (5'10" 205, 2016 LB/SS) Puyallup – Click for Highlights – It has been fun watching Maceo grow the last few years as a player, and his best is yet to come. Maceo plays with a hit first, ask questions later mentality, and does so going full speed all the time. He works hard on and off the field, and I truly believe that had he played at a bigger school, more people would know his name.
Joe Nelson (6'3″ 180, 2017 WR) Issaquah – Click for Highlights – Nelson is a tremendous all-around athletes, and one of the better from Washington's 2017 recruiting class. He has good size, length and very good hands. Nelson finished his junior season with 54 receptions, 760 yards and nine touchdowns.
Kyle Hollabaugh (6'1″ 215, 2017 LB) O'Dea – Click for Highlights – Hollabaugh is very much under the radar. He has good size, athleticism and plays very hard. The first time I got to see him up close was last weekend, and I came away very impressed. I truly believe Hollabaugh is setting himself up for a very big senior season.
Xavier Martin Jones (5'10" 165, 2016 WR) Wilson – Click for Highlights – Xavier probably projects best as a slot receiver, but did most of his damage split wide. He has good speed, hands and has a never give up mindset. Xavier shared the field with a D1 TE so targets were tough to come by, but he made the most of his chances, and really has a bright future.
Naoki Harmer (5'10" 160, 2017 WR) Interlake – Click for Highlights – Harmer is an under-the-radar WR with good speed, hands and a tireless work ethic. He is one of those kids that doesn't pass the initial eye test, but makes a name once he steps between the lines. Harmer was recently featured on NEI, an article that can be found Right Here .
Luke Stiles (6'0″ 160, 2018 WR) Skyline – Click or Highlights – Stiles is your classic Skyline wide receiver. He is sneaky athletic, has very good hands and runs crisp routes. While he had a nice sophomore season, Stiles will likely be the top receiving target for the Spartans next season.
Winterhawk Leighton (6'4″ 250, 2017 TE/DL) Ferndale – Click for Highlights – Leighton probably projects best on the DL, but he is a very capable TE. He has great size, a really nice frame and is a tireless worker. Leighton has above average athleticism and is a very good blocker, making me think he could even project on the OL.
Alex Pastrana (6'0″ 230, 2018 OL/DL) West Seattle – Click for Highlights – Pastrana plays much bigger than his size indicates. He has a non-stop, high speed motor and plays with unmatched intensity. Pastrana really reminds me of Beni Madrigal-Reis ('16 Arlington) who recently signed with Central Washington.
Connor Johnson (6'1″ 200, 2017 QB) Archbishop Murphy – Click for Highlights – Johnson is one of the better QB's in the 2017 recruiting class from Washington, and really doesn't get enough credit for his abilities. Johnson helped lead the Wildcats to the state semifinals last season, and is a big reason they will start the season at #1 in my 2016 2A rankings.
Duncan Varela (6'0″ 185, 2017 QB) Interlake – Click for Highlights – Varela doesn't have prototypical size for a QB, but he is one of the more productive athletes at his position. He has good arm strength and accuracy, and is a very capable runner. Varela is a high academic athlete getting looks from the Ivy League.