Click for Cody Shear Highlights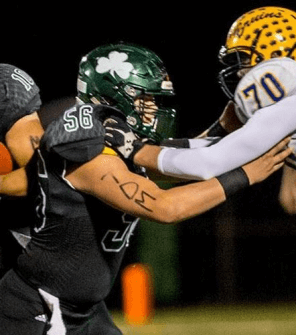 2017 Sheldon (Eugene, Or.) OL Cody Shear has already picked up two early offers and more could be on the way with the amount of attention he's getting from college coaches.
"I have offers from Nevada, Hawaii and Ohio so far," Shear told Northwest Elite Index recently. "Washington State and Eastern Washington have been talking to me a lot and I'm going to see those schools next week and then I have also been talking to Oregon State, Cal, Arizona and Boise State."
Shear said he also plans to attend Boise State's Junior Day (4/2) or Spring Game (4/9) depending on how his schedule works out.
At 6'3″ and 280 pounds, Shear is an ideal fit at guard at the collegiate level, however, he plays left tackle for his team and last year he kept Oregon signee Justin Herbert upright, helping to lead Sheldon to a 10-2 record and a berth in the state semi-finals where they lost to eventual state champion Jesuit.
"I like to pass-block and run-block and I feel really comfortable doing either one," Shear noted. "If I had to just choose one though, I'm probably better at run-blocking just because of my aggressiveness and how I like to punish guys and finish my blocks."
This offseason, Shear has already been hard at work, both in the weight room and out on the field, working on his feet and being more explosive off the ball.
"When coaches have watched me and I've watched my film, you can see that I take a false step when I'm coming off the ball, so that's been a really big focus for me," Shear said. "I'm already pretty quick off the snap, but if I can eliminate that false step, then that will make me that much more explosive and that will allow me to get into the other guy across from me that much quicker."
While he's already got some trips in mind to see some of his suitors, Shear also has been working on a schedule for camps, hoping to attend the Rivals camp and the Nike Opening event in Seattle in May.
"I just want to get out and compete against the best guys I can find," Shear said. "This past season, I played at just under 260 pounds, so I've put on a little over 20 pounds of muscle and good weight and I want to see how I do against the best players out there.
"I just love to compete and get after it and also learn new things and work on my craft as a lineman and getting out to camps and playing against really good players will definitely help me get better."
We'll have more on Shear in the coming weeks as he begins to see some of the schools that are after him and we will update news on him as it happens.