Click for Jackson Kirkland Highlights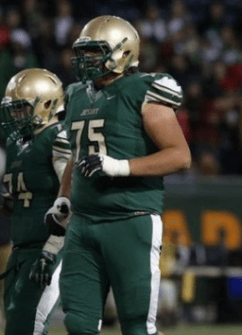 Jesuit (Portland, Or.) OT Jaxson Kirkland recently grabbed his first two offers and he updated Northwest Elite Index on where things stand on the recruiting front.
Washington State was the first school to offer Kirkland, extending a full-ride his way on February 8th and then less than 24 hours later, Hawaii came through with an offer as well.
As far as other schools recruiting him, Kirkland said the two in-state programs are the ones showing the most interest.
"I've been talking to Oregon a lot and Oregon State too," Kirkland told NEI. "I'm going to Oregon State's Junior Day (March 12th) and I've been talking to coach (Steve) Greatwood from Oregon and he wants me to come to the spring game in April."
While recruiting ramps up, Kirkland also has his eyes on improving this offseason and one thing that will help him improve will be competing against the best players, not just in the Pacific Northwest, but also on the West Coast.
"I'm planning to go to the Rivals camp in Los Angeles in March and then the Opening event in Seattle in May," Kirkland noted. "As far as other camps, I'm not really sure which ones I want to get out to, but I know I want to hit some."
As a junior this past season, while holding down the left tackle spot for the eventual state champions, Kirkland earned Frist Team All-State honors from the Associated Press after allowing just one sack on the season.
Kirkland, whose father Dean was a starter with the University of Washington back in the 90s, is a legit 6'7″ and he currently tips the scales at 305 pounds. However, he wasn't always as big as he is today.
"When I was a freshman, I was 6'2″ and I grew too fast, so it's taken me some time to 'grow' into my body," Kirkland told Northwest Elite Index recently. "I didn't play much last year (as a sophomore), mainly just special teams and as a backup, so this is really my first year starting.
"My wingspan (close to seven feet) is good and that really helps me in pass protection," Kirkland said. "Since my dad is a former lineman, he and I have worked a lot on my footwork and technique. I also worked hard with a personal trainer on things just to help get my feet where they needed to be."
This offseason he's already been hard at work improving his strength and technique.
"I definitely need to get stronger, so that'll be a big focus, but I also need to stay lower coming out of my stance, so I'll do a lot of work on my technique and lower body stuff as well," Kirkland said.
We'll continue to keep tabs on Kirkland and we will update news on him as it happens.