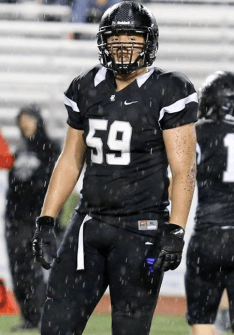 It's been a busy past couple of weeks for Bonney Lake (Wa.) DL Caleb Davis and he updated Northwest Elite Index on some of his future plans shortly after returning home from Washington State's Junior Day event.
"It was a lot of fun. I had a great time," Davis told NEI. "I talked to coach (Joe) Salave'a, their defensive line coach, for a little while and he said he wants to see my footwork and hands get faster.
"During practice, I loved watching the defensive line and the way coach Salave'a coaches his guys. He's not yelling. He's critiquing them and showing them what to do in certain situations and also just coaching them up."
Davis also enjoyed his tour of the campus and the facilities.
"I loved the weight room and the field," Davis noted. "It was really awesome to see how they do things and the support they give the players there."
In addition to his visit to check out the Cougars' program, Davis spent his spring break last week visiting three other schools that have been recruiting him.
"We went and saw Montana, Eastern Washington and Idaho," Davis said. "Those trips were all really good too. I had a good time on all of those visits."
This coming weekend, Davis will make the 45-minute drive north to take in Washington's Junior Day on Saturday as well and he's hoping to make it over to Boise State for a practice before the end of the month as well.
As far as camps are concerned, Davis will be busy once again, hitting as many camps as possible during May and June.
"I'm planning on the Northwest Elite camp for sure," Davis said. "I am also planning on going to the Eastern camp for a day, the Montana camp for a day and most likely the Washington State camp as well.
"I will also hit Washington's camp for sure.
"I got invited to the Opening Regional in Seattle, but the state track finals are that week and I'm feeling like I will make state, so I probably won't be able to do that one."
Davis has added 20 pounds to his 6'4″ frame, tipping the scales at 270 pounds, and he said he's been working really hard this offseason on his agility and strength.
"I've been focused on my agility for my defensive line work and also just getting my feet quicker so I can play in the Pac 12," Davis said. "I've also been living in the weight room, trying to get stronger and make sure I can hold up for a whole game on both sides of the ball."