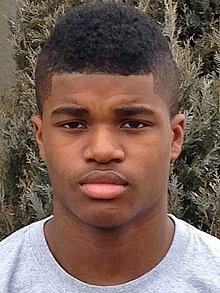 It's been a while since we've caught up with Kamiakin (Kennewick, Wa.) CB Darreon Moore and recently he hauled in his first offer.
"I picked up a offer from Eastern Washington," an excited Moore told Northwest Elite Index shortly after receiving the offer from the Eagles. "Coach (Cherokee) Valeria told me I was his number one in-state cornerback. Then I guess Coach (Nicholas) Edwards saw my film where I was playing receiver and he liked me also, so they went to Coach Beau (Baldwin) and made it happen.
"Me and Coach 'V' have a great relationship and he told me he wanted Eastern Washington to be my first offer!"
In addition to his first offer, Moore has also been hearing from several schools including Mississippi State, Montana State, Weber State, Colorado State, Nevada, Arizona, Oregon State, Wyoming and Washington State.
"I just got invited to the Nike Opening Regional (in Seattle) and I am planning to visit Mississippi State, Washington State, Washington and Oregon State for sure," Moore said. "We are still working others out.
"With Washington, I am going to their Junior Day (April 9th) and I would like to get down and check out Arizona and Arizona State at some pont this summer.
"I also want to hit the other Northwest Pac 12 schools and I'm going to attend Eastern Washington's Junior Day too (April 29th)."
As a junior last season, Moore finished with 43 tackles, eight pass breakups, four tackles-for-loss and two interceptions while also grabbing 18 receptions for 435 yards and eight touchdowns and was named First Team All-State, All-Area and All-Conference as a corner and he received Second Team All-Conference honors as a wideout.
Moore is one of the top cover corners on the West Coast and the 5'11", 165-pounder should see even more offers start to roll in now that the first school has decided to throw their hat in the ring.