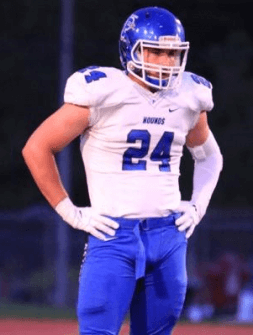 Pullman (Wa.) TE Ben Moos has five offers and he'll be hitting the road this spring to visit some of his favorite schools and this summer he'll take in several camps, hoping to show coaches what he can do.
"I have offers from Arizona State, Washington State, Idaho, Nevada and Louisville," Moos told Northwest Elite Index recently. "The other schools talking to me are Oregon State primarily. Hawaii has been showing me some love too.
"I'm on Utah's board as a defensive end, tight end and linebacker and I'm getting a lot of mail from Michigan and Notre Dame."
Moos visited Washington State, his father's alma mater, for the Cougars' Junior Day and then he plans to make a trip to see Utah next weekend and possibly Louisville later in the summer.
"With camps, I am planning on going to the Opening Regional event (in Seattle in late May) and most of the Pac 12 camps, especially the north Pac 12 schools," Moos said.
As a junior last season, Moos led his team with 36 receptions for 546 yards and he finished tied for second with four touchdown receptions.
I like to think of myself as more of a tight end," Moos said back in the fall. "In my opinion, it's the perfect position in football.
"It's truly a hybrid position. I view myself and the position as a larger receiver with the ability to physically dominate whoever the opposition decides to place on me, whether it be blocking or receiving."
As far as when he plans to make a decision, Moos has remained consistent in saying he wants to wait.
"I want to wait and take all my officials, so my commitment is probably going to be somewhere in January or on Signing Day," Moos noted.
NEI will continue to keep tabs on Moos in the coming weeks and months and we will update news on him as it happens.