Click for Kaden Jenks Highlights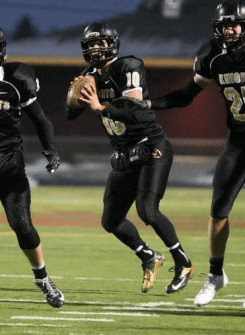 As the 2017 recruiting class becomes more clear, Washington's top QB appears to be Kaden Jenks of Royal High School.
This past season Jenks was voted Offensive League MVP, All-Area by the Tri-City Herald, and was first team All-State. The 6-foot-2, 205 pounder helped lead a loaded Royal squad to the 1A State Championship.
"To be on a state championship team is an amazing feeling," Jenks told Northwest Elite Index. "I loved everything about this season from the great leaders and friends on my team to the success we enjoyed. I truly believe our coaches to be among the best in the state.
"We worked so hard beginning in the spring last year to prepare for this football season. From spring ball, intense summer workouts, two a days, film study,and practice, I think we earned this state championship one day at a time."
Hard work is crucial for sustained success of any program, but at Royal hard work is mandatory.
"We are getting right to work to prepare for next season," Jenks said. "Our team has been in the weight room as well as focusing on being engaged in learning our scheme and strategy.
"We have also been focused on our core covenants which are standards for the team in which we help each other gain success."
Royal is one of the most underrated programs in the state, with success on a yearly basis. The Knights have a community that buys into the program year after year, with a game day atmosphere as good as any in the state, even better than most big school Friday night lights.
One of the main reasons for this success has been head coach Wiley Allred and his coaching staff.
"Coach Allred is a great person on top of being a great coach," Jenks noted. "He is very experienced and has proven his success. He has also picked an outstanding group of coaches to surround himself. Our Defensive Coordinator Jeremy Scroggins is amazing as well. They all do a great job of preparing us for every game and ensuring that we have the best opportunity for success possible.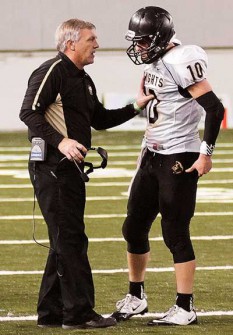 "Our community supports our football program in the classroom, on the field, and in building young men. We always have a large amount of fans no matter the weather, place, or time."
"If you came to the Tacoma Dome for the state finals and saw all the fans there supporting our team, you would have thought the whole town of Royal City was there."
In such a small town the top athletes usually participate in multiple sports. Jenks is no different as a three-sport athlete, also competing in varsity Basketball and Baseball since he was a freshman, but football is the sport that shows the most promise, so it has gained extra focus as of late, including an Elite 11 Qualifying Event.
"It was pretty cool to go to Los Angeles and see a lot of the other talented quarterbacks in the country," Jenks said. "I enjoyed the competition of the elite 11 and the coaches that attended. I feel like I threw the ball really well and showed that I belonged there, but also realize I have to work even harder if I want to play football at the highest level."
And work he will. Jenks has a full slate of football trainings and events in the coming months, many that he will have to work around an already hectic high school baseball schedule.
"I have been traveling to Bothell to work with Jake [Heaps] and Taylor [Barton] in College Prep quarterback training as often as possible," Jenks said. "I am playing baseball now which makes it difficult to get to the camps on Saturdays. I am going to go to junior day at Boise State, Utah and I am planning on visiting BYU the same week.
"We are planning on our team camp at Eastern Washington in late June and then I am going to QB camps at Eastern Washington, Boise State, Washington, and Montana."
"I am also excited for the final Elite 11 qualifier in Seattle that I am invited to attend."
Right now, Jenks is hearing from schools all across the football landscape, including multiple in the Pac-12 Conference, but only time will tell where he ends up.
We will keep you updated on his progress and have any information when it becomes available.