Click for Alex Diegel Highlights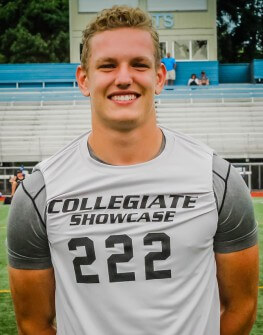 To this point in the recruiting process, not a lot of people know about 2017 Skyline (Sammamish, Wa.) LB Alex Diegel, but with a solid junior season under his belt, he's started to draw the attention of college coaches.
As a junior last season, Diegel posted 39 tackles, two tackles-for-loss, one sack and a forced fumble while playing a key role on a team that went 12-2 and made it all the way to the state 4A title game.
"I play both weakside and strongside linebacker, but I prefer the weakside," Diegel admitted to Northwest Elite Index recently. "I feel like I have a good nose for the football and I feel that I'm good in coverage, man-to-man or zone, and I'm good at making fast reads and coming down hill and making the play."
This offseason, Diegel has been hard at work, preparing for a much bigger role in the Spartans' defense.
"I'm working a lot on my strength, speed and conditioning," Diegel noted. "I'm also working on man-coverage stuff and working on pass rushing moves for when I blitz."
While recruiting has been steady, Diegel is still waiting on his first offer.
"I've been hearing from Washington State, Montana, Boise State, Idaho, Northern Arizona, Yale, Harvard, Columbia, Princeton, Brown, UC-Davis and the University of San Diego," Diegel said.
This spring, the 6'3″, 210-pounder will be busy, meeting with coaches who are showing him the most interest and also hitting the camp circuit to show what he can do against some of the top competition in the Pacific Northwest.
"I'm going to Washington State's Junior Day and Montana's Junior Day," Diegel said. "I got invited to Boise State's Junior Day, Idaho's Junior Day and Princeton's Junior Day but I can't attend them because I'm taking my ACT on the same day.
"I also have spring break coming up some I'm taking visits to Idaho and UC-Davis during that time. I just got invited to Eastern Washington's Junior Day and I'm going to attend that (April 2nd)."
"As far as camps, I know for a fact I will attend the Northwest Elite Camp, the Rough Diamonds camp, Washington state's camp, Montana's camp, probably UC Davis's camp and maybe some other college camps, but I need to talk to my parents about those."
Diegel is an interesting prospect with the versatility to play all of the linebacker spots. He's got the length you want on the edge to help stop the spread offenses that are so prevalent in today's college football and with his high Football I.Q. and natural instincts, he could be a gem for whichever school winds up signing him.
NEI will have more on Diegel in the coming weeks and months and we will update news on him as it happens.