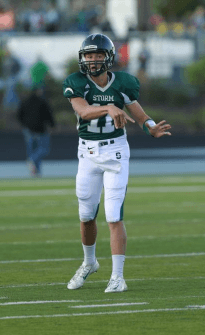 Summit (Bend, Or.) QB John Bledsoe will be a busy man over the next few months with trips to see several schools as well as plans to take in as many camps as possible.
Bledsoe is still waiting on his first offer, but recently he took trips to see Oregon State and Northern Arizona and he's also planning visits to two other FCS programs in the coming weeks.
"I visited Oregon State for an unofficial visit back a few weeks ago. They also invited me to their Junior Day, but since I had already been up to see them, they said I didn't need to come up again," Bledsoe told Northwest Elite Index. "I also visited Northern Arizona on the 18th (of March) and I'm pretty sure I'm going to go to Montana State's Junior day and possibly check out Eastern Washington soon too."
Bledsoe will also head out to take part in several camps later in the spring.
"I think I'm going to Washington State's camp and Oregon State's camp," Bledsoe said. "I'm going to look into the Northwest Elite Camp and the Rough Diamonds camps and probably make it out to one of those as well."
With a name like Bledsoe, most expect you to throw the rock around a little bit and former Washington State and New England Patriots QB Drew Bledsoe's son does just that, although he doesn't put up the big numbers you see a lot of top quarterback prospects post due to a very balanced offensive attack.
"I'm more of a pocket guy," Bledsoe told Northwest Elite Index recently when we asked him what type of a quarterback he considers himself to be. "On the field I like to stay in the pocket and deliver the ball on time.
"This year I have moved around in the pocket much better and that has allowed me to limit some of the hits and sacks I have taken as well."
Bledsoe finished the season by completing 66.2% of his passes for 2,551 yards with 31 touchdowns and just three interceptions while leading his team to a 12-1 record and the State 5A Title.
NEI will continue to keep tabs on Bledsoe's progress and we will update news on him as it happens.