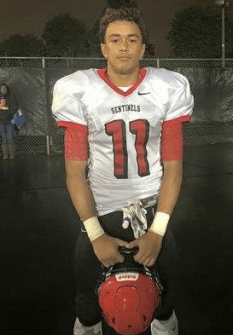 Eastern Washington became the first school to offer 2017 Steilacoom (Wa.) WR Marques Hampton and more schools could be joining the fray in the near future.
"I had been talking with (EWU wideouts) coach (Nicholas) Edwards for a while and he had been talking with my coaches and a few other people and he said he wanted to make me an offer," Hampton told Northwest Elite Index. "He told me they liked my ball skills and also my speed. He said he wanted to get me over there for their Junior Day so we could talk more about things."
In addition to the offer from the Eagles, Hampton has also been hearing from several other schools and he's planning visit them soon.
"I was invited to Washington and Washington State's Junior Days," Hampton noted. "I'll be attending U-Dub's but not Wazzu's because my 7v7 team will be in Los Angeles, but I plan to visit (WSU) during one of their spring practices. I hope to make a few more unofficial visits as well.
"Wyoming has also reached out to my coaches as well."
As a junior this past season, Hampton Jr. hauled in a 47 receptions for 1,102 yards and 11 touchdowns, leading his team in all three categories. He also starred on the defensive side of the ball as well, totaling over 40 tackles and five interceptions from his defensive back spot.
As far as camps are concerned, Hampton said he's planning to attend the Nike Opening Regional event in Seattle as well as the Northwest Elite Camp in early June.
"I'm also looking at some college camps, but I haven't decided which ones I will attend yet," Hampton noted.
The 6'0, 180-pounder is a talented two-way player who should see recruiting continue to pick up as more coaches get a look at him this spring and summer.
NEI will have more on Hampton in the coming weeks and months and we will update news on him as it happens.