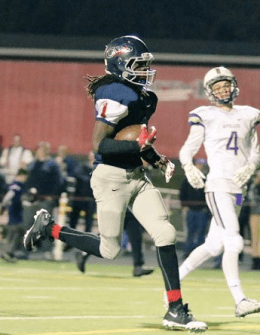 Last fall, 2017 Westview (Portland, Or.) DB Jason Rucker got his first real taste of varsity football and schools have really started to take notice of what he can do. This spring he's planning to be busy visiting several programs that are showing him interest.
Rucker led Westview with 75 tackles while also contributing four sacks, five quarterback hurries, three forced fumbles and four pass breakups from his defensive back spot as a junior last season.
As far as offers are concerned, Rucker is still waiting for his first one, but he's got plenty of schools that want to get a closer look at him this spring.
"The schools that have been talking to me the most are Montana, Boise State, Washington State and Portland State and Cal's linebackers coach wants me to come down and take a visit and to meet the coaches," Rucker noted. "Northern Arizona has really been emailing me and sending mail. They want me to come down to their camp as a potential athlete."
Rucker visited Arizona State and Oregon State at the end of March and he's got some other plans for visits in the near future.
"I was supposed to go to Washington State's Junior Day (last weekend), but both of my rides fell through, so I didn't make it out, but I am planning to go up there another weekend to meet with the staff and possibly watch a practice," Rucker said. "I'm planning to go down to San Jose State, Cal and UC-Davis this weekend and I am also working on setting up visits to see Washington and Portland State, but I haven't set those up yet."
At 6'1″ and weighing in at close to 180 pounds, Rucker is a versatile prospect who could play corner or safety at the next level, depending both on how he grows and where his coaches see him playing. He's a good leader with enough athleticism to be a factor once he gets to college and once he gets that first offer, several more are sure to follow.