Click for Zander Bailey Highlights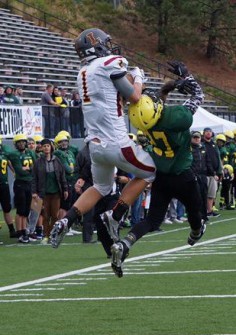 Lakeside (Seattle, Wash.) WR/LB Zander Bailey is one of the more underrated athletes and is taking an uncommon approach to his recruitment.
"I really love the idea of being a Division-3 athlete as it provides me with a really good education and some solid football," Bailey told Northwest Elite Index. "To me academics are extremely important. Someday my football career will end and I need to have a strong academic background to fall on for a career.
"My parents and I have talked extensively about this and we both agree that it is something that should come before football."
Now, that's not to say Bailey wouldn't be jump at the opportunity of playing at a higher level, but at the end of the day he is looking for the right academic fit.
Growing up in Boston playing Baseball and Soccer, Bailey came to Lakeside just days before the start of his freshman season having never played football. From having never played to being named All-Metro on both sides of the ball, the strides Bailey has made in the last three years have been incredible.
"It was an extreme honor to be named All-Metro," Bailey said. "More than anything, it meant that other coaches recognized that I could get it done alongside some of the state's best."
Being talented on both sides of the ball is always a good thing, but Bailey knows one day he may have to make a decision on which side he intends to play.
"I definitely prefer playing offense and I think my talents are better used there," Bailey said. "I have shown my best play in jump ball situations and think that my route running is still something that I can work on to further my skill set.
"Next year I think I will play some tight end as well because of my larger frame so maybe some H-back in college."
Bailey is seeing a variety of college interest, from schools all over the recruiting map. Recently he took a visit back to the east coast to tour some potential landing spots, and get a better feel for each program.
"I visited Amherst, Middlebury, Trinity, and Brown," Bailey noted. "I really like Middlebury, as they had a beautiful campus and some really nice facilities.
"I also loved Trinity, they showed a lot of interest in me and I have talked with the receivers coach quite a bit."
"Brown also was a really cool place and if I can I would love to be able to play at an Ivy League school along side some great talent."
Only time where tell where Bailey ends up, and we will be sure to keep you updated, but as of right now it looks like a degree is worth more than a touchdown.