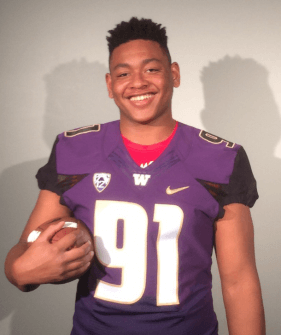 2017 Tumwater (Wa.) DL Lazarus Williams will be a busy many this offseason, both with recruiting and figuring out where he's going to play this fall.
As a junior this past season, the 6'5″, 275-pounder rotated between defensive end and defensive tackle, finishing with 63 tackles and nine sacks while helping lead the Thunderbirds to a 13-1 record and a berth in the 2A State finals.
"I think I do a good job of motivating my teammates. We go hard every down and I think that's a big thing I bring," Williams told Northwest Elite Index shortly after the season concluded. "As far as on the field and how I play, I am probably better as a pass-rusher, but I can read things pretty well and I think I do a good job of stopping the run too.
"I read the run well and then I'm quick at reacting to things and when I read it right, I have the speed to run and track the back down."
Williams ran into some off-field issues and it's still up in the air on whether he will return or not.
"I made some poor decisions and was held accountable for them," Williams admitted. "I'm currently on the road to redemption and doing what I need to do."
While he's working to get back in the good graces of the T-Birds' coaching staff, Williams has been hitting the road to see several of the schools that have been after him.
"I've been out to see Washington State and Washington for their junior days," Williams said. "At Washington State, the coaches there were great and very welcoming. I really liked the school and the program as a whole.
"With Washington, their passion and purpose to the program and how much they are devoted to helping their players become better people. That is what really stuck out to me when I was there."
In addition to the two in-state Pac 12 programs, Williams has been hearing from Boise State, Colorado State, UNLV, Portland State and Montana State.
Williams isn't looking to take any other visits currently, but he's open to the idea while also focusing on some camps he wants to hit.
"I'm probably just going to workout and focus on getting ready for spring football," Williams said. "I am starting to look at some camps. I haven't decided which ones I will hit, but I want to go to a few of them."
We'll have more on Williams in the coming weeks and months as he continues to progress through the recruiting process.