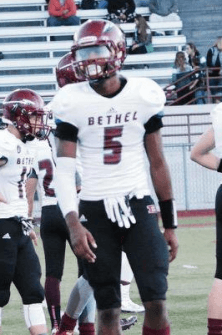 Even though he's still currently only a sophomore and he hasn't played a lot of football, 2018 Bethel (Spanaway, Wa.) WR Jarrell Anderson hauled in his first offer recently.
"I got an offer from Idaho," Anderson told Northwest Elite Index. "They had been talking to my coach for a while and they decided to offer me.
"They said they like my size and the way I catch the ball."
While the Vandals are the first offer for the talented sophomore, they by no means are the only school giving him a look.
"I've been talking a lot with Washington State, Portland State and Eastern Washington," Anderson said. "I'm looking at possibly camping at a couple of those schools, but I still need to meet with my coach to decide on which ones I am going to go to."
Anderson mentioned the Washington Rising Stars camp as well as the Idaho, Oregon and Washington State team camps as well as the Northwest Elite Camp.
As a sophomore last season, Anderson used his 6'5″, 215-pound frame to finish with 35 receptions for 514 yards and three touchdowns.
"I felt like I did pretty well, but I know I can play a lot better and be more of a threat," Anderson said. "I've been working a lot this offseason on getting stronger, but also I've been doing a lot with my 7-on-7 team and that has helped me a lot too."
Anderson will be at the Rise 7v7 tournament at Kent Meridian High School on Sunday.