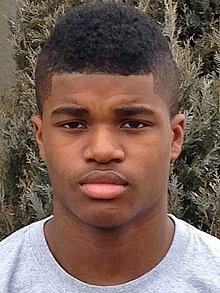 2017 Kamiakin (Kennewick, Wa.) DB Darreon Moore has been keeping busy this spring, checking out programs that are showing him some attention.
Eastern Washington became the first school to offer the talented defensive back and he's been to a few other schools' junior days over the past couple of weeks.
"I went to Washington's Junior Day last weekend and it was nice," Moore said. "I'm heading to washington State to see them on the 22nd (of April) and we are going to try and set up a visit to see Idaho for that same day since they are so close to each other.
"The day after that, on the 23rd, I'm heading up to see Eastern Washington for their Junior Day and I'm still trying to work out visits to check out Oregon and Portland State."
As far as camps are concerned, Moore has several in mind, but no official plans set up yet.
"I just got invited to the Nike Opening Regional (in Seattle) and I am planning to visit Mississippi State, Washington State, Washington and Oregon State for sure," Moore said. "We are still working others out.
During his successful junior season last fall, Moore finished with 43 tackles, eight pass breakups, four tackles-for-loss and two interceptions while also grabbing 18 receptions for 435 yards and eight touchdowns and was named First Team All-State, All-Area and All-Conference as a corner and he received Second Team All-Conference honors as a wideout.
Moore is one of the top cover corners on the West Coast and the 5'11", 165-pounder should see even more offers start to roll in now that the first school has decided to throw their hat in the ring.