Click for Quincy Backes Highlights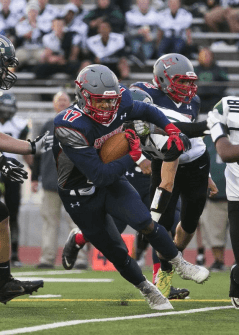 One of the top returning ball-carriers in the state of Washington this year is 2017 Eisenhower (Yakima, Wa.) tailback Quincy Backes and he updated Northwest Elite Index recently on how recruiting is progressing.
The 6'0, 205-pounder led the Big Nine league with 1,377 yards and seven scores last season, making a name for himself as both a tough inside runner and a guy who can make you miss in space.
"I can run the ball to the outside gaps because I'm quick to the line of scrimmage and if I see a cut lane I'm able to burst through the hole and take hits from defenders because I'm a bigger back," Backes told NEI recently. "I also keep my pad level down, so then when I do run the ball inside I can take multiple hits and still stay on my feet and finish the run.
"Lastly, what makes me a good ball carrier is that I don't shy from contact I'll hit the opposing team before they get the chance to hit me."
This offseason, the talented tailback has been focused on his speed and getting in the best shape possible for what he hopes is a huge senior season.
"I definitely want to get faster. You can never be fast enough," Backes noted. "I also am focused on my nutrition and adding more muscle so I can absorb more hits and bounce off and then get down the field."
On the recruiting front, things have begun to pick up for Backes, but he's still waiting for his first offer.
"I have talked to Sacramento State and I went to their Junior Day," Backes said. "I've also been talking a little with Eastern Oregon and Central Washington."
As far as camp are concerned, Backes is planning to hit several including a couple of local ones.
"I'm going to Northern Arizona's camp on June 12th, Eastern Washington's on the 27th (of June) and our team camp at Central from the 17th to the 23rd (of June)," Backes said. "I'm also heading over to take part in the Northwest Elite Camp on June 3rd as well."
With his blend of size and toughness, Backes is an interesting prospect who may be going overlooked because of his team's lack of success (1-9 in 2015).
If he can impress during the camp circuit in the coming weeks, more teams may start to stand up and take notice and he could see the offers start to roll in once they get a look at the start of his senior season.