Click for Campbell Barrington Highlights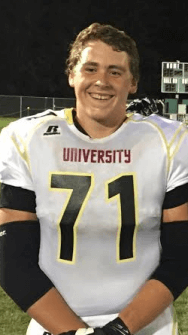 2018 University (Spokane, Wa.) OL/DL Campbell Barrington is over a year-and-a-half away from signing with a school, but that hasn't stopped two from offering and more from showing him a lot of interest.
At 6'6, 280 pounds, Barrington already has the look of a top level college prospect.
"I have offers already from BYU and Eastern Washington," Barrington said recently. "Last week, Washington, Washington State and Stanford all stopped by my school and I've been geting a lot of letters from Oregon, so things have been pretty busy so far.
"Most schools say they see me as a left tackle in college. They like my size and my feet and they think I could be a pretty good fit along the offensive line."
As a sophomore last season on a University team that went 5-5 in the Greater Spokane League last season, Barrington played both ways, but it was on the offensive side of the ball that he felt he had his biggest impact.
"I felt I was at my best as a run-blocker," Barrington said. "I mean, I was good as a pass-blocker, but I love to be more aggressive and fire out and get into the defender across from me."
Barrington starts at center on his school's basketball squad and that has helped with his footwork, but he said he's gotten some feedback from the coaches recruiting him on some things to focus on this offseason.
"A lot of the coaches want me to keep working on my footwork and also to get stronger so I have been working with a trainer a couple of times a week and I'm lifting on my own and with my team five days a weeks," Barrington added.
As far as camps are concerned, Barrington plans to head to BYU, Stanford and Cal's camps this summer and he'll be heading to Utah to take part in the All-Poly camp as well as the Northwest Elite Camp that will be held in the Seattle area the first Friday of June.
"I want to get out and compete and show schools what I can do against the best guys out there," Barrington said. "That's really what is so fun about sports. I just love to play the game and I love to compete."
Barrington is LDS and said he's currently undecided on when he will take his mission.
Over the next seven months, Barrington should start to draw more and more attention from college coaches and with his size and athleticism, he should have a lot more offers to choose from before the start of his senior season in 2017.