Click for Dedrian Milligan Highlights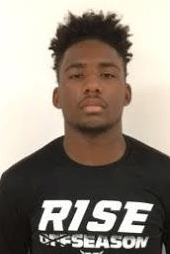 If you're looking for versatility in a prospect, look no further than Lakes (Lakewood, Wa.) ATH Dedrian Milligan who is a player who could be a factor on either side of the ball.
"I really don't have a preference on offense or defense," Milligan told Northwest Elite Index. "I honestly prefer to play. It really doesn't matter to me where it is."
As a junior last season, Milligan played mainly on defense, totaling 11 tackles and four interceptions while starting every game and helping lead the Lancers to a 10-3 record.
"I have good change of direction and good hips," Milligan said. "I also feel like I bring a lot of energy to our team and try to focus on every play and making sure I do what I need to do to be successful."
Since the end of the season, Milligan has been hard at work getting ready for his senior campaign, focusing on several areas that will help him be successful.
"I definitely want to get faster so I've been doing a lot of leg workouts," Milligan said. "I'm also trying to get more flexible and work on my off-technique and how I play the ball."
"My coaches think I'm a better fit at wide receiver, so I'll be there more this year," Milligan said. "Some of the schools recruiting me think maybe corner, so it's sorta a mixed feeling on where I'd fit best in college."
So far, Milligan has just one offer, but he's also been hearing from a couple of other schools.
"Central (Washington) has offered me," Milligan noted. "I've been talking to Portland State and I've been getting letters from Arizona."
As far as camps are concerned, Milligan said he hopes to hit the Portland State camp while attending Central Washington's camp with his team.
"I also want to hit the Northwest Elite camp and the Nike Opening in Seattle (on May 28th)," Milligan added.
At 5'11, 195 pounds, Milligan has a nice frame and he's got the quickness and ball skills to be very effective either out of the slot or as a corner.
He's definitely a player to keep an eye on in the coming weeks and months as he hits the camp circuit and we'll have more on Milligan as things happen