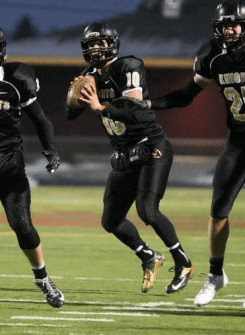 Exciting news from central Washington where Royal QB Kaden Jenks picked up an offer from Weber State University.
"It is a very satisfying feeling to know that all the hard work I have put in has been recognized and I could not be happier," Jenks told Northwest Elite Index. "The recruiting process is full of ups and downs but I have learned a lot."
Colleges are in their spring evaluation period, and Weber State Assistant Head Coach Brent Meyers stopped by to talk to Royal Head Coach Wiley Allred.
"They had a really good discussion about Weber State football and their pro style offense," Jenks said. "They said I would be a great fit in their offense and offered a scholarship.
"My dad showed up a little while after and it was a great and memorable time for me."
Jenks hasn't visited Weber State yet, but does have some ties to the area.
"My grandparents live about 15 minutes away from Ogden, so I have spent a lot of time in the area," Jenks noted. "I really like the area and I like what the coaches are doing at Weber State."
Recruiting is really starting to pick up for Jenks, who we recently tabbed as Washington's top QB prospect in the 2017 recruiting class.
"I am currently talking to Boise State, Washington, Portland State, Montana State, Montana, Yale, Penn, Oregon State, and Utah State," Jenks said.
With all the attention and Spring football just around the corner, it is going to be a busy few months for Jenks as he looks to balance his team work with big recruiting events.
"I plan to keep grinding with my team first of all," Jenks said. "Our spring football will start the end of May and that will be my focus for a couple weeks.
"I am headed to May Madness next weekend and then I can't wait to compete in Northwest 9 Selection Saturday. I was invited to the Northwest 9 finals last year and that was a great experience."
"Next up will be the Northwest Elite Camp in early June. In between those I plan on attending as my college QB's camps as I can make it too from the list of schools I mentioned above."
"Last of all I am really looking forward to football season beginning in August and defending our 2015 state championship."
This could be the first of a few offers for Jenks, but only time will tell. We will keep you updated on his progress and have any news when it becomes available.