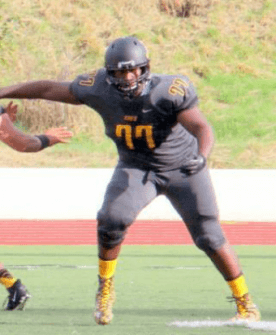 2017 Lincoln (Tacoma, Wa.) OT Quazzel White added an offer from Fresno State recently, his seventh, and he's currently one of the hottest offensive line prospects in the West.
"I have seven offers now," White told Northwest Elite Index. "I just got Fresno State, but I also have gotten Hawaii, Idaho, Colorado State, Portland State, San Jose State and san Diego State."
With all of those offers in hand, White has plenty of good options, but more could be coming to the fore.
"The schools talking to me the most right now are Oregon, Arizona, Nevada, Montana State, Montana, Wyoming and Utah State, " White noted. "I don't have offers from those schools, but they are all talking to me a lot right now."
Camp season is fast approaching and White will be hitting the trail this coming weekend when he takes part in the March Madness event at Foster High School.
"I'm doing March Madness and also the Northwest Elite Camp the first weekend of June," White said. "I'm also going to be going to a lot of team camps with some other guys — like Washington, Washington State, Oregon and Oregon State and a few others as well."
As a sophomore in 2014, White was a key backup on a team that went 12-2 and made a deep run in the state playoffs and this past season, the junior started all but three games at left tackle for the Abes, holding his own opposite Kameron Smith who signed with New Mexico.
"One thing that I take pride in is the attitude I bring every game," White said. "I get my teammates focused and hyped up and we all come together as one unit for every game.
"As far as what I can do on the field, I have good hand placement and I finish my blocks and I have my steps where they need to be because I can get into my sets that much quicker."
This offseason, White has gotten to work on fine-tuning several aspects of his game and he hopes to show them off this fall after a full offseason of hard work.
"A big thing for me is getting stronger. I definitely am adding muscle and strength which is something my coaches felt that would help me a lot," White noted. "I'm also working on my stance and getting my kick steps down. I've gotten a lot better at that already. I also wanted to get better footwork by just getting quicker feet."
At 6'4″ and 295 pounds, White is a versatile player who could fit inside or outside, depending on where the coaches that offer him see him playing. He brings an intensity and physical nature to the field on every play and his coaches have lauded his leadership, both on the field and in the weight room.
White is still working his way through the recruiting process and we will keep you updated on news when it becomes available.