Click for Michael Matthews Highlights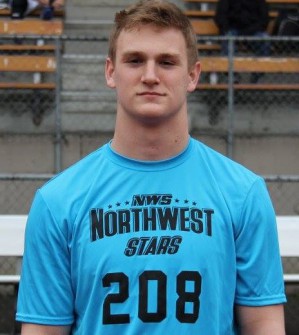 Great news from out of Southwest Washington where Michael Matthews of Camas has received offers from Eastern Washington and Columbia.
These are the first two D1 offers for Matthews, who is ranked as one of Washington's top 2017 Linebackers.
"The feeing is incomparable to anything else I've experienced," Matthews told Northwest Elite Index. "To know that all of my countless hours watching film, lifting, practicing, and even studying are paying off is just a great feeling.
"It's also awesome just to know that I will be able to do what I love for at least four more years regardless of where I go, and I can potentially get a great education and not worry about costs."
Matthews is very familiar with both programs, having recently spent time on each campus.
"I visited Columbia on April 2nd, 2016, and really loved all of their facilities," Matthews said. "The football building complex is an unbelievable set up, and I would probably spend most of my time hanging out in there when I'm not practicing. Columbia is doing everything right and is defiantly headed in the right direction.
"April 23rd I visited EWU for junior day, and had a fantastic time up there. I really liked how the football facilities are right up on campus and everything is very accessible. I love the red turf too."
"I also had a chance to meet with linebacker coach [Josh] Fetter one-on-one. We really hit it off, and could've talked for hours if I didn't have to catch a plane. He showed me around the locker room and more of the facilities and I really thought the place was laid out well and had a great feel to it."
It was only a matter of time for Matthews, and now we are hoping the flood gates open. The reigning GSHL Defensive Player of the Year has been hearing from a number of schools, including the likes of Oregon State, Washington State, Utah State, Hawaii and Portland State.
Right now, Matthews knows he will be attending the RDAF Showcase on June 30th in Kent. He would like to get back east to some Ivy League camps, as well as Portland State, Oregon State, EWU, Boise State, but has yet to finalize dates.
Matthews has yet to set a timetable for his final decision, but made it clear he would like to have it narrowed down before the start of his senior season.
"I want to at least have a pretty good idea of the top few places," Matthews noted. "I feel like it would be selfish to try and focus on recruiting during my senior year when I should be fully invested in the team, and making a deep playoff run."
We will keep you updated on Matthews and have any new when it becomes available.