Click for RJ Nelson Highlights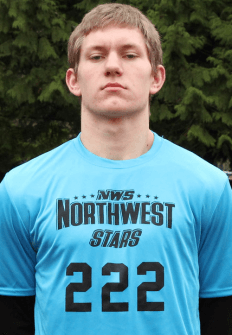 2017 Hillsboro (Or.) DE/LB R.J. Nelson has started to climb up some recruiting boards over the past few weeks and he recently received his first two offers.
"Right now, I have offers from Eastern Washington and Idaho," Nelson told Northwest Elite Index. "The offer from Eastern Washington was from this past Monday (May 9th). They had been talking to me a little bit and I went to their Junior Day and I got a chance to talk to coach (Eti) Ena, the defensive ends coach there.
"He said that he really liked my physicality and my quickness and he thought I could be a great 'BUCK' (hybrid OLB/DE) in their system there.
"With Idaho, my family and I stopped in while on a trip to Pullman for junior day at Washington State.
"We got a chance to sit down with coach Cink (Kris Cinkovich), and met head coach (Paul) Petrino. They were gracious enough to show me around even though I came by unannounced and I also came back by the next day and met with coach (Kenny) Holmes, the defensive line coach.
"We've been talking ever since and I received a phone call on Wednesday night saying that they would like to offer me a scholarship."
In addition to those two offers, Nelson has also been in contact with Utah State, Boise State, Portland State and Washington State.
As a junior last season, Nelson played both ways for the Spartans, but it was on defense where he had his biggest impact, posting 48 tackles (30 solo), 12 tackles-for-loss, eight sacks, six quarterback hurries, three fumble recoveries and one forced fumble while earning Second Team All-League honors on the defensive side and honorable mention on the offensive side.
"I have a great get off. I get off the ball really quick and my lateral quickness and speed is really good for a guy my size," Nelsoon said. "I also really like to play physically.
"This offseason, I've been working on getting stronger and adding more size and strength. I also am working on how I use my hands and my initial blow, making sure that's more explosive."
As far as camps are concerned, Nelson said he hopes to hit the Nike Opening Regional event in Eugene as well as the Collegiate Showcase in Portland and he may drive out to Boise State if he can fit it into his schedule.
At 6'4″ and 217 pounds, Nelson has the perfect frame to build on and play the new hybrid 'BUCK' position that is so en vogue in today's defensive schemes. When you watch his film, you see a player with solid instincts, the ability to get to the ball and the physical nature to make ball-carriers pay for trying to run to his side.
Northwest Elite Index will have more on Nelson in the coming weeks and months and we will update news on him as it happens.