Click for Sean Gordon Highlights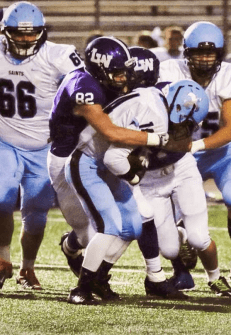 After a very good junior season, 2017 Lake Washington (Kirkland, Wa.) DE/TE Sean Gordon is a player who is getting some looks from college coaches, but he'll need to hit the camp circuit this spring in order to show them what he can do.
As a junior last fall, Gordon started both ways for the Kangs, but it was on the defensive side of the ball where he made his presence felt as he finished with 50 tackles, seven sacks, 18.5 tackles-for-loss and two forced fumbles from his defensive end position.
"I can play both ways, but I love to play defensive end," Gordon told Northwest Elite Index recently. "Rushing the quarterback is what I do best. I just love competing against the offensive tackle across from me. It's one-on-one with the other guy, so it's great to just compete and know that you have this guy in front of you and he's trying to keep you from getting to the quarterback, protecting the blindside. I just love it.
"A big reason why I'm good at what I do is because I have a really good motor and also I work a lot on my technique, but I think the biggest reason why I am so successful is because of the passion I play the game with. I just love the game of football. I'm always thinking about football and what I can do to win this battle or that battle, but I just love being out on the field with my brothers, guys I got to battle with every day in practice, and I don't want to let them down."
On the recruiting front, things have started to pick up for Gordon, but he's still waiting on his first offer.
"I've had a few coaches drop by to see me," Gordon said. "So far the coaches that have dropped by are from Washington, Idaho, Eastern Washington, Central Washington, New Mexico, Linfield and Georgetown.
"This spring, when I was on spring break, I went to check out Montana, Montana State, Eastern Washington, Idaho and Washington State and I had a great time on all of those visits.
"Central is the only school that is really close to offering. They are saying they are close to offering, but so far they are just talking about it."
This summer, camps will be a big part of Gordon's plans as he hopes to show the coaches what he can do in person.
"I'm definitely planning on five or six camps, but I only know of one that I will definitely be at," Gordon noted. "I definitely am doing the Nike Regional Camp on May 28th and I am looking at doing the Northwest Elite camp, but I'm not signed up for that one just yet.
"I'm also looking at some school camps, but I haven't committed to any yet. Washington State is a camp I'd love to get over to. I loved my visit there and the coaches were really cool, so that's one I'm looking at."
At 6'3″ and 210 pounds, Gordon is a bit light to play as a true defensive end in college, but he's working hard to get his weight up this offseason.
"I want to get to 220 pounds before the season and so a big thing for me is putting on some weight," Gordon said. "I also am working on my coverages, trying to be smoother into my drops and also being more flexible and I was named First Team All-Kingco as a tight end, but that was more about my blocking than my receiving, so I want to be more well-rounded as a tight end so I am working a lot on my route-running."
With is size, speed, athleticism and the way he plays the game, Gordon has the skillset coaches are looking for in a prospect. Once he hits the camp circuit he should start to garner more attention and he sure seems to be one of those players that once he starts getting offers, more schools will start to offer as well.