Click for John Blasco Highlights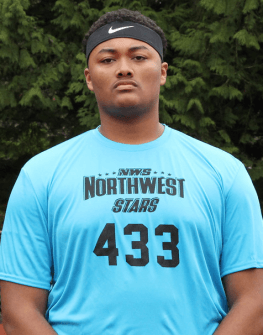 At 6'6 and 312 pounds, it's hard to believe that 2017 Stadium (Tacoma, Wa.) OL John Blasco was flying under the recruiting radar, but things are changing for the big man and he could see some offers start to roll very soon.
"Portland State and UTEP seem like they are close to offering," Blasco told Northwest Elite Index. "I've also been talking a lot with Oregon State, Washington and Washington State."
Blasco played almost exclusively at left tackle last season for Stadium, but he said he'll be playing some defense as a senior this fall.
"I mainly just played offense last season, but they want me to play some defense this year and I'm excited about that," Blasco noted. "I love the chance to compete and also to help my teammates succeed, so however I can help, I'm willing to do it."
Blasco is a gym rat who is solely focused on getting himself ready for what he hopes is a big year, both for himself and for his team.
"I have long arms, so that helps me in pass-protection, but I've also got pretty good strength and that helps me keep the bull rush out," Blasco said. "This offseason, I've been in the weight room, working on getting stronger and more explosive, but I'm also working on my inside post foot so I'm not just throwing guys, but instead, I'm staying with them and making sure they can't make the play.
"I just love the game of football. There's nothing else like it. When you're out there with your guys. No one can succeed playing football on their own, so you rely on your guys and it's great to be part of a unit and a team that works hard together and succeeds together.
"This year, we have a goal of making the playoffs, but more than anything, we want to finish games better. I think we have the team to do it, but we still have a lot of work to do to get ready for the season.
Blasco attended last week's May Madness event and showed good feet and the ability to move pretty well for a young man his size.
This summer, Blasco will hit the camp circuit with plans to go to Washington, Washington State, Oregon State and Boise State camps as well as the Northwest Showcase in Portland on June 3rd.
We'll have more on Blasco in the coming weeks and months and we will update news on him as it happens.