This Event Will Take Place At Kentwood High School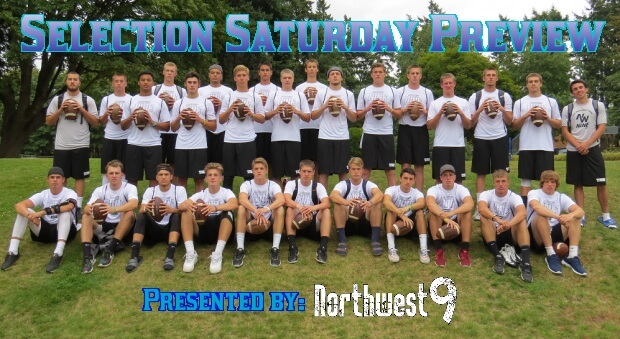 Last August the inaugural Northwest 9 showcase many of the region's top Quarterbacks in a four day, invitation only event. Fast forward to 2016 and with demand so high, the Northwest 9 staff created Selection Saturday, a tryout style event that will help pare down the initial list.
Over the last month invites to Selection Saturday have been sent out to the region's top QB's. High School Coaches and athletes looking for an invite were able to submit film and a brief profile for consideration. At the end of the day, we will be looking at around 70 QB's competing, in a three session format, for one of the thirty Northwest 9 Finalist spots.
2018 University of Washington commit, Jacob Sirmon (Bothell), returns to defend his Northwest 9 title, and will face some stiff competition. Kaden Jenks (Royal) recently picked up an offer from Weber State and is the top 2017 QB in the state of Washington, having led his team to a 1A state title last season. Both athletes were Northwest 9 Finalists last year, and look poised to make a great run again in 2016.
John Bledsoe (Summit) is one of the top QB's in Oregon. He helped his team to a 5A state championship last season, and was offered by Northern Arizona not long after. DeQuahn Dennis-Lee (Oregon City) is a tremendous all-around athlete and one of the top dual-threat QB's in the Northwest. He will shock you with his athleticism, and surprise you with his ability to throw the ball.
William McMullin (Boise) and Drew Korf (Capital) are making the long trek from Idaho's capital city to Selection Saturday. Both athletes come into this event under the radar, but likely to impress.
Below is a list of every athlete taking part in Selection Saturday. For more information on the event, visit – Northwest9.com
| | | | |
| --- | --- | --- | --- |
| Name | Class | School | State |
| Nathanial Holcomb | 2017 | Puyallup HS | WA |
| Christian Moore | 2017 | Bellermine Prep HS | WA |
| Kaden Jenks | 2017 | Royal HS | WA |
| Tanner Bolt | 2017 | Prosser HS | WA |
| Connor Johnson | 2017 | Archbishop Murphy HS | WA |
| Rowan Parmenter | 2017 | Wenatchee HS | WA |
| Jack Koss | 2017 | Shorecrest HS | WA |
| Alex Motonaga | 2017 | Wilson HS | WA |
| Drew Tingstad | 2017 | Meadowdale HS | WA |
| Adam Long | 2017 | Lake Washington HS | WA |
| Duncan Varela | 2017 | Interlake HS | WA |
| John Bledsoe | 2017 | Summit HS | OR |
| Matthew Ellis | 2017 | Gresham HS | OR |
| DeQuahn Dennis-Lee | 2017 | Oregon City HS | OR |
| Drew Korf | 2017 | Capital HS | ID |
| Kyler Gaither | 2017 | Chief Sealth HS | WA |
| Noah Andrews | 2017 | Tumwater HS | WA |
| Paxton Stevens | 2017 | Richland HS | WA |
| Tyler Giraldes | 2017 | Shelton HS | WA |
| Ben Beale | 2017 | O'Dea HS | WA |
| Miles Harlow | 2017 | Orcas Island HS | WA |
| Zach Zimmerman | 2017 | Monroe HS | WA |
| Ryder Johnson | 2017 | Peninsula HS | WA |
| Ty Hargis | 2017 | Lebanon HS | OR |
| Wes Harrington | 2017 | Moses Lake HS | WA |
| Terell Mims Jr. | 2017 | Hillsboro HS | OR |
| Dexter Mell | 2017 | Juanita HS | WA |
| Dahlton Sullivan | 2017 | Inglemoor HS | WA |
| Zach Borisch | 2017 | Kamiakin HS | WA |
| Gunner Talkington | 2017 | Battle Ground HS | WA |
| AJ Allen | 2018 | Lakeside HS | WA |
| Hunter Wendling | 2018 | Stadium HS | WA |
| Conor Bardue | 2018 | Lake Stevens HS | WA |
| Max Arend | 2018 | Kentridge HS | WA |
| Justin Seiber | 2018 | Kentwood HS | WA |
| Luke Ross | 2018 | Sumner HS | WA |
| Brandon Steinberg | 2018 | Newport HS | WA |
| James Hinson | 2018 | Ferndale HS | WA |
| Max Nall | 2018 | Garfield HS | WA |
| Tristen Gese | 2018 | Bethel HS | WA |
| Colby Burton | 2018 | Puyallup HS | WA |
| Jesiah Irish | 2018 | Mount Si HS | WA |
| Wyatt Harsh | 2017 | Woodland HS | WA |
| William McMullen | 2018 | Boise HS | ID |
| Jaden Sheffey | 2018 | Woodinville HS | WA |
| Austin Lane | 2018 | Lakewood HS | WA |
| Sam Mueller | 2017 | Jesuit HS | OR |
| Jacob Sirmon | 2018 | Bothell HS | WA |
| Marcus Matchie | 2018 | Westview HS | OR |
| Joe Green | 2019 | Skyline HS | WA |
| Natano Woods | 2019 | Kentwood HS | WA |
| Lincoln Victor | 2019 | Union HS | WA |
| Jack Hanish | 2020 | Peninsula HS | WA |
| Micheal Franklin | 2020 | Skyline HS | WA |
| Caden Filer | 2020 | Kent-Meridian HS | WA |
| Parker Johnson | 2020 | Cascade Christian HS | WA |
| Alex Johnson | 2020 | Bellevue HS | WA |
| Trey Morris | 2020 | Kennedy Catholic HS | WA |
| Gage McIntyre | 2020 | Bothell HS | WA |
| Trajan Shouten | 2020 | Lynden Christian HS | WA |
| Jackson Laurent | 2019 | Lake Oswego HS | OR |
| Dylan Morris | 2019 | Graham-Kapowsin HS | WA |
| Ayden Ziomas | 2019 | Glacier Peak HS | WA |
| Matt Merk | 2019 | Kamiak HS | WA |