Click for Armani Marsh Highlights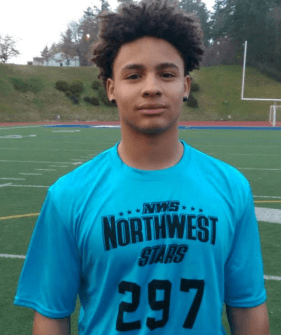 After helping his team win the state 4A title last season, 2017 Gonzaga Prep (Spokane, Wa.) CB Armani Marsh is a player to keep an eye on this summer.
As a junior, Marsh locked down his side of the field, posting 30 tackles, three interceptions, 12 pass breakups and a forced fumble.
"I'm quick in and out of my breaks and we play a lot of cover three so I feel really comfortable in zone," Marsh told Northwest Elite Index recently. "We play a lot of cover three and cover two, so I feel pretty comfortable playing that, so this spring and summer, I'm working a lot on my man-to-man coverage and making sure I have that aspect down and I'm also working on getting stronger and faster and doing speed drills and working out every day."
Marsh recently grabbed his first offer and he's got several other schools interested in what he can do.
"I just got an offer from San Diego and I've been talking to Weber State, Portland State and Montana mostly," Marsh said. "I'm just being patient and working on the things I can control and the rest is up to other people."
As far as camps are concerned, Marsh is planning to hit several this spring and summer although he hasn't really set up his schedule yet.
"I know I'm going to go to the Nike Opening Regional (in Seattle) on the 28th (of May), but other than that, I haven't scheduled anything yet," Marsh noted. "I'm still sorta looking at which ones I want to go to.
"I'm thinking about the Eastern Washington camp and possibly Montana, Wyoming and Portland State's camps. I'm not really sure just yet though."
At 5'10" and 174 pounds, Marsh isn't the biggest corner out there, but he's strong when the ball is in the air and he has no problems coming up in run support. He hasn't really seen things start to pick up on the recruiting front, but that could change once schools get a look at what he can do in person on the camp circuit.
As far as what he's looking for from the school that he ultimately winds up at, Marsh is pretty specific.
"I am definitely looking for the best fit for me," Marsh said. "I need that right mix of football and academics and I want to find a place that, when I go there, I'm not just a guy for a roster spot. I don't want to sit all four years I am there. I want to play, so I need to find a place that I think I can play once I get to the school."
We'll have more on Marsh in the coming weeks and months as he continues to work his way through the recruiting process.