Click for Skyler Martin Highlights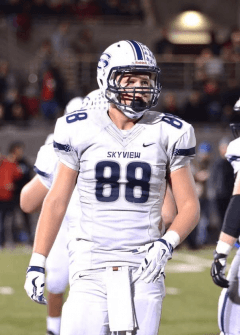 It's taken a while, but patience has proven to be a virtue an over the last week 2017 Skyview (Vancouver, Wa.) DE/TE Skyler Martin has hauled in his first two offers and more could be on the way very soon.
"I got Columbia at the beginning of last week and then Cornell just offered me (on Saturday)," Martin told Northwest Elite Index. "Columbia had been talking to me for several months and I had formed a good relationship with them, but with Cornell, things just started to heat up with them recently. They stopped by my school and wanted to get my transcripts and test scores and then (Saturday) they called and said they loved my versatility and how I played the game with toughness.
"Columbia likes me as a tight end, but Cornell likes me on either side of the ball."
In addition to his first to offers, Martin said there are several more schools who have been in contact and could be offering soon.
"San Diego has really picked things up with me and I think they could be the next (to offer)," Martin noted. "I've also been talking with Washington, Montana, Wyoming, Portland State, Eastern Washington and Oregon State."
With camps just starting to get underway, Martin has been thinking about which ones he wants to hit.
"I am planning on going to Boise State's camp and Oregon State's camp in June," Martin said. "I'm planning on going to the Premier Showcase in Portland on June 3rd and then in July my parents and I are planning on going back east and going to Columbia and Harvard for their camps."
As a junior last season, Martin was a impact player on both sides of the ball totaling 58 tackles, 11 tackles-for-loss, eight sacks and two forced fumbles from his defensive end spot while hauling in 18 receptions for 185 yards and two scores as a tight end on offense.
"On defense, I feel like I play fast and physical. I can shut down the run and get after the quarterback and I finish plays pretty well. I'm pretty big and I'm athletic for a guy my size and I play disciplined football."
While he's a productive player with great size, 6-foot-5 and 235 pounds, Martin knows he still has plenty of things to work on to become the player he wants to be.
"I'm working on getting stronger; I'm lifting every day," Lollar noted. "I'm trying to get quicker and more explosive, with better food speed and agility. I'm working on running crisper routes and building chemistry with my quarterback and I'm trying to develop my pass rush moves off the edge.
"I'm also working on being a vocal team leader."
We'll have more from Martin in the coming weeks and months and we'll update news on him as it happens.
With his size, quickness and the way he plays the game, Martin is a rising star among the 2017 prospects within the state of Washington. He should see interest continue to pick up and he will likely have several options before it's all said and done.