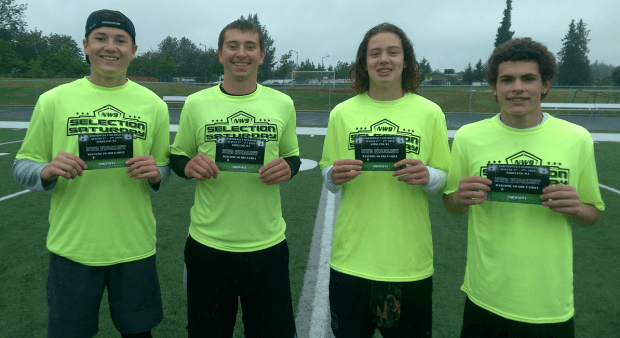 The Northwest 9's Selection Saturday started with a light rain, but that didn't stop 16 of the top 2019 and 2020 recruiting class Quarterbacks from taking the field. This session was split event between the two classes, and there wasn't a shortage of great talent.
Jason Stiles of Root Sports spent the day out at the event and tweeted about the overall talent.
Selection Saturday @TheNW9 today. The cupboard is full with QB talent in the NW for the next several years!!

— Jason Stiles (@JasonStiles) May 22, 2016
The session was capped with invites to four QB's, including Dylan Morris ('19 Graham-Kapowsin). Morris is a NW9 veteran, having participated in the inaugural event in 2015, and had another outstanding day. He has a great shot to be in the top three at the NW9 Finals in August.
Ayden Ziomas ('19 Glacier Peak) started last year as a freshman, and saw plenty of success. While he may not pass the eye test, Ziomas can spin the ball just about as well as any QB in the state, and proved that over the weekend. Joe Green ('19 Skyline) spent last season at King's in Seattle, but has moved up to the Sammamish Plateau and is looking to take over for NW9 alum Blake Gregory (Washington). Green threw the ball exceptionally well and came away with an invite.
Last year Dylan Morris was the only QB invited to the NW9 Finals that had yet to take a high school varsity snap, and after last weekend we know there will be at least one, as Michael Franklin ('20 Skyline) was awarded an invite. Franklin already has good size, and showed he was one of the top dogs in attendance with an all-around great performance.
Matt Merk ('19 Kamiak) was one of the most impressive athletes in attendance and could be inline for a NW9 Finals invite. He has good size, great arm strength and did hit just about every throw during the session. Lincoln Victor ('19 Union) looks like he could be in line for the starting job this coming season, and has a tremendous all-around day. He finished with the session's best time in the obstacle course (35.3 seconds) and didn't make many mistakes on the day.
Parker Johnson ('20 Cascade Christian) was a surprise to me, as I had not seen him throw before. Johnson was a youth All-American a few years back and looks like he has continued to progress. I am always a fan of left-handed QB's, and we saw a good one over the weekend in Caden Filer ('20 Kent-Meridian). He still has a ways to go, but Filer showed he has the tools to be a very good player down the line.
A name you will want to remember is Natano Woods ('19 Kentwood). Time will tell if he is a QB or possibly a LB/DE, as he has the frame to possibly grow into that position, but for now he is a QB that showed great arm strength and at the end of the day made a strong case to receive a NW9 Finals invite. Jack Hanisch ('20 Peninsula) is a name to keep an eye on in the future. He might not get the start this year, as Peninsula returns a senior starter, but with very good mechanics and a great work ethic, he has a very bright future ahead of himself.
Eddie Rosemont ('19 Skyline) and Jackson Laurent ('19 Lake Oswego) both had very nice days. Rosemont is one of three Skyline QB's in this session, and looked very much the part. He has good mechanics and a great understanding of the position. Laurent is at a traditional power down in Oregon, and proved he belonged in this session, showing good arm strength and above average mechanics.
Seems like every year we hear about a new young QB from Bothell, and this year it is Gage McIntyre ('20). Gage has a ways to go, but has all the tools and a willingness to work that will help prepare him for the day he takes over the Blue Train. Trajan Schouten ('20 Lynden Christian) had some early jitters, but recovered nicely. He has good size and is sneaky athletic for his age. Schouten is a hard worker and a name we will be hearing from in the future.
Trey Morris ('20 Kennedy Catholic) is a dual-threat QB with great bloodlines. His dad, Randall, spent time in the NFL as a RB and now looks to have his son following his footsteps. Trey is a work in progress, but has tremendous upside going forward. Alex Johnson ('20 Bellevue) showed very well for his first time in a big time environment. He is accurate, athletic and works hard at his craft.
Check back in the coming days for reports on the 2017 and 2018 classes.