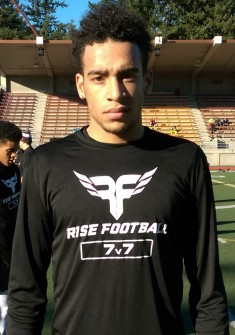 A player shooting up recruiting boards this spring has been Emerald Ridge (Wa.) ATH Andrew Boston and this past week he hauled in his fourth and fifth offers.
"This past week I got offers from Weber State and Hawaii," Boston told Northwest Elite Index. "I got Montana State last week and I already had offers from Air Force and Eastern Washington."
Boston got a good chance to show what he could do last weekend at the May Madness event up at Foster High School in Tukwila and he said it was a great opportunity to go up against some of the top cover-men in the state of Washington.
"I faced Darreon (Moore) and Anfernee (Gurley), so there were some good players there," Boston said. "They made me work for everything I got. I missed on a couple of balls that I think I could have had, but all in all I felt like I did pretty well."
As far as other camps are concerned, Boston said he's planning to hit camps at Washington, Washington State and Boise State while going with his team to the Central Washington camp and he'll be in Renton to take part in the Northwest Elite Camp on June 3rd.
"I just like to get out and compete," Boston said. "There are great players around here, so it's just great to get out and compete against the best guys you can find. They make you better and hopefully you're making him better."
While starting both ways for Emerald Ridge last season, Boston totaled 50 receptions for 750 yards and seven touchdowns on offense while racking up over 50 tackles and two interceptions as a defensive back.
At 6'3″ and 180 pounds, Boston is a rangy wideout with great ball skills and soft hands.
His recruiting has just started to pick up and more schools could be getting in the mix very soon once he hits the camp circuit next month.