Click for Joe Nelson Highlights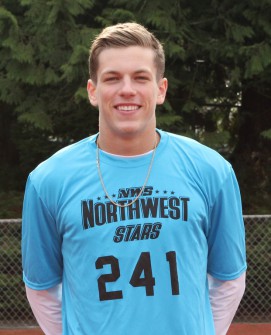 2017 Issaquah WR Joe Nelson hauled in his first offer over the weekend when Air Force threw their hats in the ring.
"The (Air Force) coaches came to my school earlier this month and I met them and they talked to my coach for a while," Nelson told Northwest Elite Index. "They got all of my transcripts and my SATs and then I didn't hear from them for a while.
"But (on Saturday) they called and said they had been watching my film and they thought I'd be a great fit in their program because I play pretty physically for a wide receiver and if you go to Air Force as a receiver you had better like to block and I love blocking."
In addition to his offer from the Falcons, Nelson has also been hearing from some Ivy League programs as well as a couple of schools out west.
"Harvard, Columbia and Princeton all have been sending me stuff and I have also been talking to Utah State and Montana State," Nelson said. "I'm not looking to make a decision anytime soon, so schools have time to recruit me, but I really am excited to get my first offer and I like Air Force a lot."
This summer, Nelson is planning to attend several camps and he'll be a busy young man once June begins.
"Right now, my plan is to go to Utah State, Air Force and BYU for camps and then possibly out to Washington State for their camp," Nelson said. "I'm also going to head up to New York and New Jersey, basically up to the Northeast, and I'll hit a couple of Ivy League schools and see about talking to the coaches there and checking out the schools.
"I'm also headed to the Northwest Showcase down in Portland on June 3rd just to compete and to get in front of a few coaches down there."
As a junior last season, Nelson hauled in 54 receptions for 760 yards and nine touchdowns, using his 6'3″, 180-pound frame to be a difference-maker in the Issaquah passing game.
We'll have more on Nelson in the coming weeks and months as he gets further into the recruiting process and we will update news on him as it happens.