Click for Cale Lindsay Highlights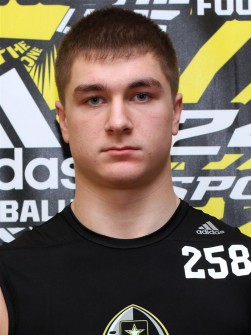 It's taken some time, but schools are starting to stand up and take notice of what 2017 Lakes (Lakewood, Wa.) LB Cale Lindsay has to offer and recently the talented prospect hauled in his first two offers.
"I just got an offer from Air Force and I've had one from Eastern Washington for about three or four weeks now," Lindsay told Northwest Elite Index recently. "Coach (Mike) Thiessen came by and saw me work out and he called and said that they liked me and thought I was a great player and that I would fit in really well with their program there.
"It was exciting to get the offer and it just makes me want to work harder."
In addition to his offer from the Eagles and Falcons, Lindsay said a couple of other schools could be close.
"Boise State sure seems to be close," Lindsay said. "They have been talking to me a lot and they came by my school and talked with me and my coaches.
"I've also been talking a lot with Montana and Portland State."
As far as camps are concerned, Lindsay said he's looking at several, but has yet to really plan things out.
"I'm looking at going to Oregon State, Washington State, Montana and Boise State for camps," Lindsay said. "I'm planning on those, but I'm still looking into which ones I want to go to.
"I'm also not sure if I will go to the Opening Regional in Seattle this weekend. That's another one I'm looking at, but I'm not sure yet."
As a sophomore in 2014, Lindsay had 86 tackles and last fall he's racked up close to 100 while helping lead the Lancers to the 3A State Quarterfinals.
"I'm probably better as a run-stopper," Lindsay noted when asked to assess his overall game. "I can visualize where the ball-carrier is going and I have the ability to close and then make the play.
"I feel like it comes naturally to me. I can read the field well and make plays."
At 6'2″ and 230 pounds, Lindsay is a prototypical MIK linebacker prospect with good short area quickness. As he continues to work on getting stronger and working on his technique he should see more schools start to get into the mix.
NEI will continue to keep tabs on Lindsay in the coming weeks and we will udpate news on him as it happens.