Click for Bradley Kim Highlights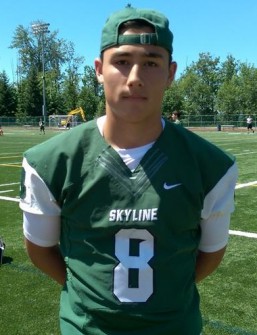 2017 Skyline (Sammamish, Wa.) DB Bradley Kim received his first offer recently and more schools are close to throwing their hats in the ring as well.
"Navy just offered me," a happy Kim told Northwest Elite Index. "Coach (Shaun) Nua came to our school about a month ago and he said he liked my physical style of play and how aggressive I am, but he said he wanted to whole staff to get a chance to watch my film and evaluate me, so he asked me just to be patient.
"After he got a chance to show the film to the whole staff in a meeting, he said it took them four plays into my film for them to say 'let's offer' so then he texted me and asked me to call him and that's when he made me the offer.
"As a kid growing up, going to one of the service academies was a dream of mine and my dad played rugby at Navy, so we have a history there. It's like a dream come true for me, but I also don't want to make a hasty decision so I want to wait a little while and see what other schools want to recruit me."
Some of those other schools include Air Force, Columbia, Hawaii, Montana and Eastern Washington.
"I have a really good relationship with a couple of the coaches from those teams and they all like me as a safety except for Eastern Washington because they like me on either side of the ball," Kim said.
Playing almost exclusively at safety this past season, Kim posted 78 tackles and two interceptions and he said a big reason for his success is his physicality.
"If you watch my film, you'll see I'm more of a hard-hitter," Kim said. "I just love the physicality of the game of football. I love to hit and compete and just being down where all the action is so I go down in the box a lot, especially against good running teams like Graham Kapowsin, but then when we play teams that throw the ball a lot, I play more of a traditional safety role, so I feel like I can do either thing pretty well."
This offseason, Kim has been working hard on a couple of areas, hoping to make his senior season his best.
"I definitely am working on my speed because I feel like I can play even faster than I already do," Kim said. "I also want to get more fluid in my hips so I've been working on my backpedal and also drills that get me to flip my hips a lot."
As far as camps are concerned, Kim said he's been working on a plan, but he hasn't set up an official itinerary.
"I know I want to get down to the Portland Showcase and I also want to get out to Air Force's camp at the end of June," Kim said. "I also want to get out to Navy's camp and if we do that, we'll probably also go to West Point (Army) which is pretty close to there."
We'll have more on Kim in the coming weeks and months and we will update news on this rising prospect as it happens.