Click for Joe Tryon Highlights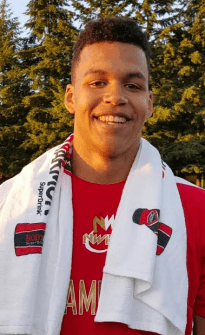 It was a successful weekend for 2017 Hazen (Renton, Wa.) DL Joe Tryon and on Saturday, the talented defensive lineman came away with his first Pac 12 offer.
On Friday night, Tryon impressed at the Northwest Elite Camp at the Starfire Athletic Complex and then on Saturday, he did so well at the Washington State camp, the Cougar coaches couldn't help but extend an offer his way.
"I felt like I did really well at camp (on Friday)," Tryon told Northwest Elite Index. "I talked to the Washington State coaches a lot and they said they couldn't wait to get me over (to Pullman) so they could run me through their own drills.
"Today, I went to their camp and they said that they felt like I was a great fit for their defense and they felt like I was a good player that they wanted to get into their program."
The offer from the Cougs is Tryon's second, joining the one he already had from Eastern Washington.
"It is really exciting and a total blessing to get an offer from them, but I didn't think about committing or anything like that," Tryon said. "I'm just going to take my time, but I really like the coaches there a lot and I think I could really fit in there if I chose to go there, but I'm not close to making a decision."
In addition to his two offers, Tryon said he's also been talking to several other schools.
"Portland State seems like they are close to offering me," Tryon noted. "On Friday, besides Washington State, I talked a lot with BYU, Arizona State, Oregon State and Boise State, so there are a few more schools interested in me."
As a junior last season, Tryon totaled 82 tackles and seven sacks while earning First Team All-Seamount League honors.
With his 6'5″, 230 pound frame, Tryon has the exact size coaches are looking for along the defensive line and he said that is the position most schools see him playing once he gets to college.
"My mix of my size and speed really gives me an advantage on the field and experience is something that helps too," Tryon said. "This offseason, I'm doing track for the first time this year and it's just getting me faster, but also I'm working on my explosiveness so I'm faster off the ball."
We'll have more on Tryon in the near future as he gets further into the camp circuit later this month.