Click for Christian Moore Highlights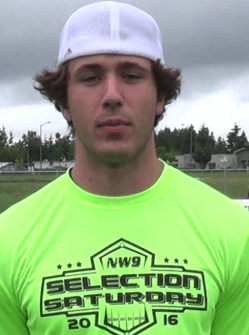 It's been a busy couple of weeks for Bellarmine Prep (Tacoma, Wa.) QB Christian Moore with two offers in the books and more schools coming along to take a closer look.
Moore already had an offer from Central Washington and late last week he hauled his second offer.
"The University of San Diego offered me," Moore told Northwest Elite Index. "They came to my school about a month ago and they said they liked me, but they wanted to evaluate me more and (Friday) they called me and said that I was the top quarterback on their list and that they were offering me a scholarship.
"I was really happy. They have a great program there and I really like the area down there."
In addition to the two schools that have offered, Moore has also been hearing from San Diego State, Stanford, Washington, Cal, Utah, Utah State, Eastern Washington and Portland State.
"Most of the schools that have been talking to me said they want to see me at camp, so I'm going to go out to a bunch of camps and do what I can to show them what I can do."
And what is it that Moore can do?
Last season, the 6'5″, 215-pounder completed 55.6% of his passes for 1,358 yards with nine touchdowns and six interceptions.
"I'm more of a pocket-passer, but I can get out and run or extend plays with my legs if I need to," Moore told Northwest Elite Index last fall.
This offseason, Moore, who considered himself a solid study in the film room, says his pre-snap reads have improved immensely.
"Coach (Taylor) Barton and coach (Johnny) DuRocher and coach (Jake) Heaps have all helped me a lot," Moore said. "I mean, I thought I was pretty good at reading defenses and knowing what to do, but it's night and day compared to last year for me.
"I can get up to the line now and know exactly what defense they are in and I know exactly where I'm going with the ball, so it's a lot less thinking for me and now I'm just getting out and playing.
"I feel much more comfortable now than I did last season and I thought I felt pretty good last year, but it's so much better right now and I still have a couple more months to really tighten things up."
Moore has improved so much that late last month he earned an invite to the Northwest Nine Finals and he plans to take part in several more camps as well.
"Northwest Nine was a big thing for me and something I really wanted to make happen and I played well enough to get there. It was really cool when I got the invite," Moore said. "As far as other camps, I've already done the Nike Opening up here in Seattle and I did San Diego State over the weekend.
"I'm also planning to head to Cal's camp and the Oregon State camp and also Empire Showcase in Los Angeles, and the Northwest All-Star camp."
With his big frame and improving knowledge of how to play the position, Moore is a quarterback who is starting to garner a lot more attention. It will be interesting to watch how things progress from here as he continues to prepare for his senior season.