Click for Jordan Talafili Highlights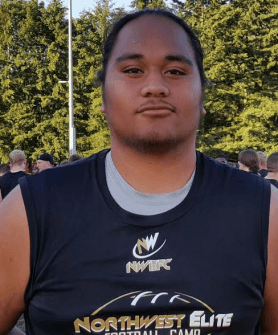 It's a bit of a down year in the state of Washington as far as interior defensive line prospects are concerned, but 2017 Central Valley (Spokane, Wa.) DL Jordan Talafili is one player garnering a lot of attention from college coaches.
"I don't have any offers yet, but a lot of schools have been talking to me and want me to get to their camps," Talafili said. "Washington State has been talking to me a little bit, Eastern Washington has been talking to me a lot and I've been talking with Montana, Montana State, Idaho and a little bit with Arizona.
"As far as camps, I have done the Seattle Opening Regional and the Northwest Elite Camp and Washington State's camp in Pullman. I'm planning to go to Washington's camp on the 11th (of June) and then I am possibly going to Montana's camp."
As a junior last season, Talafili totaled 56 tackles, four sacks, two forced fumbles and an interception while earning First Team All-GSL honors on both sides of the ball.
"I played left tackle on offense and basically nose tackle and defensive tackle for us on defense," Talafili noted. "I love to play ball and I will play on either side, but I prefer defense.
"I just love to hit guys and be aggressive.
"I know my role. I am there to take up blockers and stop the run and let my teammates get after the quarterback."
Talafili has some work do to academically, but he is taking classes this summer in the hopes of improving in that respect.
"I know I have to take a couple of classes this summer and I'm looking to take one more to get ahead on things," Talafili said.
At 6'3 and 292 pounds, Talafili is a load and then when you factor in his quick first step and his natural strength, he can make things very tough on opposing offensive linemen.
As long as he gets his academics in order, Talafili should have plenty of options by the time his senior season is complete and he should be one of the top defensive linemen in the state this coming fall.