Click for Malik Thirdgill Highlights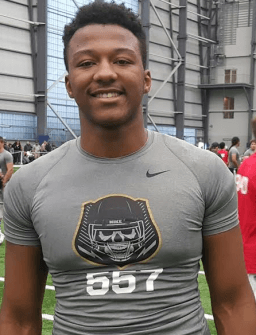 On the hoof, 2017 Central Catholic (Portland, Or.) TE/DE Malik Thirdgill is one of the more impressive athletes anytime he steps on the field. However, the talented athlete is still waiting on his first offer, but that hasn't changed his focus this offseason.
"I'm not too worried about it right now honestly," Thirdgill told Northwest Elite Index at a recent camp. "A lot of schools have been talking to me — Washington State, Portland State, Boise State and Utah State. I think Portland State is pretty close to offering me, but so far, I don't have any offers.
"Like I said, I'm not too worried about it right now. I don't want it to take away from my focus on getting better and getting ready for my senior season."
At 6'3″ and 236 pounds, Thirdgill is an impressive looking athlete with good hands and enough athleticism to be a threat in the short and intermediate passing game.
"I feel my get off is pretty good and I have been working on my releases and also my blocking," Thirdgill noted. "I can play on either side of the ball, but most schools like me as a tight end at the next level.
"This offseason, I have been working on those things, plus I want to get stronger and just work on running my routes as well as possible."
As far camps are concerned, Thirdgill has hit the Nike Opening Regional in Seattle as well as the Northwest Best Showcase in Portland this past weekend.
"I'm probably going to hit Washington State's camp, Washington's camp, Oregon and Oregon State's camps because they are pretty close and I am hopefully going down to Arizona for their camp as well."
NEI will continue to keep an eye on Thirdgill as he continues to work his way through the recruiting process and we will update news on him as it happens.