Click for Lazarus Williams Highlights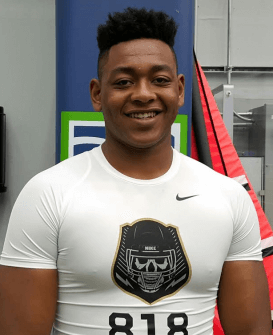 While he's currently still enrolled at Tumwater (Wa.) High School, 2017 DL Lazarus Williams doesn't know if he'll be able to play there this fall due to an off-the-field incident.
"I made a mistake in judgement and I became ineligible to play," Williams admitted to Northwest Elite Index. "I was stupid and made a mistake and I am currently going through the appeals process in order to play again.
"I am still at Tumwater though, I haven't left, and I have been doing all of the offseason conditioning and I've been participating in spring football with my team, so really, it's about the appeal to the school district and it sounds like I've got a really good chance to be reinstated, but we just have to let the legal process work itself out."
As a junior this past season, the 6'4″, 252-pounder rotated between defensive end and defensive tackle, finishing with 63 tackles and nine sacks while helping lead the Thunderbirds to a 13-1 record and a berth in the 2A State finals.
"I lost about 20 pounds from what I played at last season and I feel a lot quicker and stronger than I was," Williams noted. "It was unneeded weight, so really I just started eating better and focusing on lifting and my conditioning."
This spring, Williams has talked with a lot of schools while taking part in several camps with more on the horizon.
"A lot of schools came by my school to meet with me and my coach," Williams said. "Arizona State, Montana, Boise State, Utah State, Montana State and a few other dropped by and said they were looking at me.
"I did the Nike Opening in Seattle and the Northwest Showcase down in Portland and I'm planning to go to Oregon's camp, Washington's camp and I will most likely do Arizona State's camp too, but I haven't set that up yet.
"Washington State and Eastern Washington both want me to hit their camps, so I'm seeing if I can fit those in.
"I'm also planning to go to our team camp at Central Washington."
NEI will continue to keep tabs on Williams and we will update news on him as it happens.