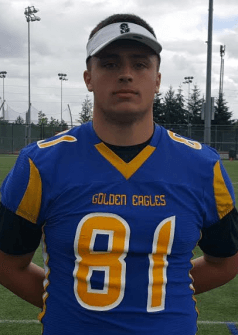 It's been a busy month for 2017 Ferndale (Wa.) DL Winterhawk Leighton so far and he's also been hard at work helping get his team ready for what he hopes is a very good senior season.
"Last year, I played mainly defensive end, but I was also at defensive tackle and I played some tight end as well," Leighton told Northwest Elite Index. "This year, because we lost (Chris) Hernandez and (Nick) Bartel and we're a little on the small side, I'm most likely going to move to offensive line somewhere, so I'll still play both ways, but it will be on the lines."
While playing defense last season, Leighton used his 6'3″, 254 pound frame to be a stalwart along the front, posting 33 tackles and 2.5 sacks.
"I always play with a high motor and I play with a lot of intensity," Leighton said. "I take pride in how I use my hands and I also have pretty good footwork on both the defensive line and when I am asked to be a blocker along the offensive line."
Because he's one of the few senior starters returning to the Golden Eagles this fall, he's stepped up and taken on more of a leadership role.
"It's weird to think this is my senior season, but I embrace it as my chance to help my team by being a leader on and off the field," Leighton said. "I get the guys together to run and lift and since we're rebuilding the line, that's my job too. I need to keep a positive attitude and show the guys that it's not about me and what I want to do, but what is best for the team, so I'm moving to offense line instead of staying at tight end."
On the recruiting front, while Leighton is still waiting for his first offer, he has been hearing from a handful of schools.
"I talked to Carroll College after the Northwest Elite Camp and they seemed to like me a lot," Leighton noted. "Idaho asked me to come to camp, so I did that on Monday and Wyoming and Weber State have both been talking to me a little bit.
"I don't have any offers yet, so I just need to work and focus on what I am doing and hope that someone likes what they see when they see me on tape or at camp."
In addition to the camps he's already attended, Leighton said he's also planning to take part in the Rough Diamonds Camp at the end of the month.
Leighton is a versatile player who could fit almost anywhere along the defensive line at the next level. He works hard, has good strength and his footwork has improved quite a bit over the past year.
We'll have more from Leighton before the start of the season as he continues to work his way through the recruiting process and we will update news on him as it happens.