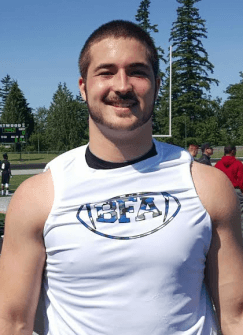 Even though he is sitting with offers from six schools, 2017 Pullman (Wa.) TE Ben Moos is in no hurry to make a decision, opting to take his time and see what's out there before he chooses where he'll play his college football.
"My offers right now are from Washington State, Arizona State, Idaho, Nevada, Utah and Louisville," Moos said recently. "Oregon State has been on me pretty hard and I like them a lot. I like the recruits they have been bringing in there and coach (Gary) Andersen is building that program back up pretty well.
"I also like Colorado a lot and they are after me and so is Arizona and that's another school I really like a lot."
As far as a timeline for a decision, Moos isn't going to rush anything.
"Honestly, I want to wait to take all of my official visits," Moos said. "I'll probably wait until January or real close to Signing Day (February 1st) before I decide anything.
"I just want to make sure that I get a chance to show schools what I can do and I also get a chance to see different schools and what school fits me the best for my future."
Moos' father, Bill, is a former Washington State player and is currently the Cougars' athletic director, so it might seem logical that he was pretty close to a lock for his father's alma mater, but that isn't the case.
"My dad is pretty strong and has told me that I shouldn't worry about where he works or my family's ties to the program," Moos said. "He wants me to choose the right school for me and not let that influence me."
As far as camps are concerned, Moos said he's planning to go to as many Pac 12 camps as possible although he has yet to finalize any plans.
"We're working on it right now, so I'm not completely sure, but I know I want to hit the Washington, Washington State, Oregon and Oregon State camps and a few of the other ones, probably Arizona State's, but that's still being planned out," Moos said.
As a junior last season, Moos led his team with 36 receptions for 546 yards and he finished tied for second with four touchdown receptions.
I like to think of myself as more of a tight end," Moos said back in the fall. "In my opinion, it's the perfect position in football.
"It's truly a hybrid position. I view myself and the position as a larger receiver with the ability to physically dominate whoever the opposition decides to place on me, whether it be blocking or receiving."
We will have more on Moos in the coming weeks and months as he gets set to start his senior season and set up his official visits.