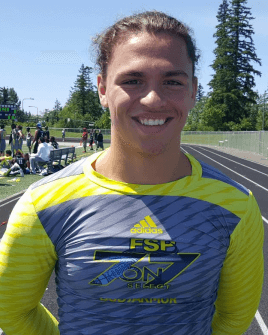 2017 Monroe (Wa.) RB J.J. Jerome got some good news last week when Montana State became the first school to extend an offer his way.
"I attended Montana State's camp on Sunday (June 12th) and then on Monday, coach (Jeff) Choate called me and he said that he was really impressed with me and what he saw and they liked what I could do and they were offering me a scholarship," Jerome told Northwest Elite Index. "It was a great honor to get the offer and I am really excited about it, but I didn't really think about committing or anything like that.
"I talked with my dad and my coach (Mike Bumpus) and they both advised me to hold off on committing and just keep working, so that's really what I'm doing right now."
This past weekend, Jerome made a return trip to the Treasure State and spent time with the Montana coaching staff.
"Their camp was different than Montana State's," Jerome noted. "They wanted to keep things light and just see how we competed, stuff like that.
"I felt like I did pretty well, but obviously you can always do better.
"They said they think I have the athleticism to play at the next level, but they weren't sure where I fit — running back or linebacker — so they said they just want to continue evaluating me and see where things go."
With his first offer in hand, Jerome is already in Florida getting ready to help his seven-on-seven team in the IMG Grand Tournament this coming weekend and he's got some other camp plans in mind as well.
"It's kind of expensive, so I can't go to a bunch of them, but I'd like to hit the Washington and Washington State camps if I can."
As a junior this past season, while helping to lead the Bearcats to a 7-3 record and the first round of the state playoffs, Jerome totaled over 1,300 yards rushing with 22 touchdowns while hauling in 35 receptions for another 520 yards and six more scores.
"I had a pretty good season, but I feel like I can do more," Jerome said back in February. "We've been building our program and coach (Michael) Bumpus and the rest of the staff have done a good job of keeping us focused on getting better every day.
"We're hitting our workouts hard and I think we will be pretty tough this season, but we have to put the work in this offseason to keep getting better."
We'll have more on Jerome as he continues to work toward his senior season and we will update news on him as it happens.