Click for Brady Brick Highlights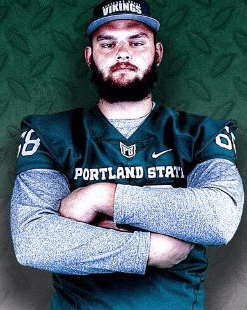 2017 Battle Ground (Wa.) OL Brady Brick committed to Portland State and he couldn't be happier about his decision.
"I was at their camp and they offered me right after that," Brick told Northwest Elite Index. "After camp, coach (Bruce) Barnum said he liked me as a player and that he was offering me.
"I committed right there to him and the whole staff was really excited and so was I."
The offer from Portland State was the first from a D-1 school, joining the one Brick already had from Western Oregon. With things just starting to pick up, why was he so eager to end the recruiting process now?
"It honestly was an easy choice for me," Brick said matter-of-factly. "It's 30 minutes from my home, they have a great Education Degree there and that's what I want to pursue and my parents were both encouraging me to take it."
In addition to his two offers, Brick had also been talking to a lot with Washington State, Wyoming and Eastern Washington.
"Those three were the more serious schools that I'd been talking to," Brick said. "I'd been getting stuff from other schools, but those were the three that were after me the hardest before I committed."
While he attended the Portland State camp over the weekend, that isn't the only camp Brick has hit since the start of camp season.
"I went to Washington State's camp, Western Oregon's camp and Eastern Washington's camp," Brick said. "I felt like I did pretty well at those camps, but only Western Oregon was willing to offer me."
At 6'4″ and 270 pounds, Brick, whose name is very fitting for an offensive linemen, handles left tackle duties for his high school team, but in college, he could play almost anywhere.
"Coach (AC) Patterson and I talked a lot about where I'd play and he said he could see me inside at guard or center or even at tackle," Brick said. "I played all five spots at camp, so I showed them I could do it all, so really, they are just after me as an offensive linemen and they'll figure out where I fit best when I get there."
As a junior last season, Brick helped lead the Tigers to an 8-3 record, using his size and solid technique to keep pass-rushers at bay while allowing the offense to put up 38.6 points per game.
"I'm probably better in pass-protection because we're a pass-heavy offense," Brick said. "I'm really comfortable in space and in my sets.
"I'm working a lot on finishing more blocks and working to get better footwork and also get stronger and faster."
We will have more on Brick and his teammates when our team previews start later this month.