Click for Sam Lockett Highlights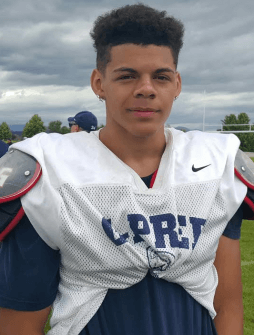 At 6'1″ and 190 pounds, 2018 Gonzaga Prep (Spokane, Wa.) DB Sam Lockett already has the size of a college football player and he'll likely be one of the top prospects in the state by the time his senior season is completed.
"I just love the game of football," Lockett said after a recent camp. "I have played basketball all my life and I split time between the two, but my heart is with football.
"I just love the physicality of it and coming up and being physical with a wide receiver. I take pride in playing a physical brand of football."
As a sophomore last season, Lockett played a key role in helping lead the Bullpups to the 4A State Title by posting 32 tackles, four interceptions and scoring two touchdowns on defense, being named First Team All-GSL and Second Team All-State.
"It was a great year for us as a team, but I feel like I could play a lot better than I did," Lockett said. "I have been working a lot on my footwork and my backpedal and just my overall coverage.
"I want to be better when the ball is in the air and working on my press and off coverage to be the best player I can be."
As far as recruiting is concerned, things are just getting started for the talented corner, but that should change this fall once schools can really start to pick things up with him.
"I haven't hit any camps at all, but I want to get out to Boise State and Washington State to visit those schools at some point this summer," Lockett said. "With AAU (basketball), my time in the summer is pretty busy, so I'm not sure if I can hit any camps or not, but I'd like to if I can work it into my schedule."
Lockett is an impressive looking athlete who plays with an aggressiveness that belies his youth.
He's definitely a prospect to keep an eye on over the next year and we will continue to keep tabs on him in the weeks and months leading up to the start of his junior season.