Click for Michael Matthews Highlights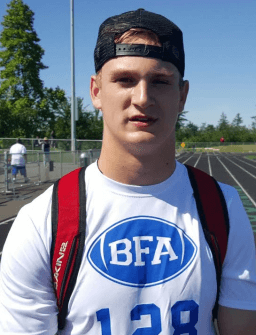 Because he plays down in the southwest corner of the state, 2017 Camas (Wa.) LB Michael Matthews hasn't received a lot of media coverage from the recruiting sites, but that hasn't stopped four schools from offering him and more could be on the way in the near future.
At 6'2″ and 205 pounds, Matthews led the Papermakers as a junior with 153 tackles, 18 tackles-for-loss, three sacks and an interception while being named First Team All-Greater St. Helens, First Team All-Region and he was named the Greater St. Helens League 4A Defensive Player of the Year.
"I play everywhere (at linebacker), but I am mainly at middle linebacker because of my instincts," Matthews told Northwest Elite Index. "A big thing for me is that I move pretty well. The game of football is a spread out game now so you have to be able to move well and I'm that guy who can play sideline-to-sideline and come down hill and make the play.
"I like to initiate contact and be right in the mix of things."
With his outstanding skillset as well as his productivity, Matthews has already drawn the attention of four schools and more could be getting into the mix very soon.
"My offers right now are from Wyoming, Montana State, Eastern Washington and Columbia," Matthews said. "The other schools talking to me a lot right now are Portland State, Hawaii, Boise State and UC-Davis."
As far as camps are concerned, Matthews has hit the Northwest Best Showcase the first weekend of June and then on June 11th he headed to Boise State for their camp.
"This offseason, I am working a lot on my core strength and my footwork," Matthews said. "I also want to put on some weight. I'd like to play the season at about 215 pounds, so that's a big thing I want to work on."
Matthews has the frame to easily add another 20 pounds once he gets to college and with his high Football I.Q. as well as his outstanding productivity and leadership skills, he's a player to watch as we get closer to the start of the 2017 football season.