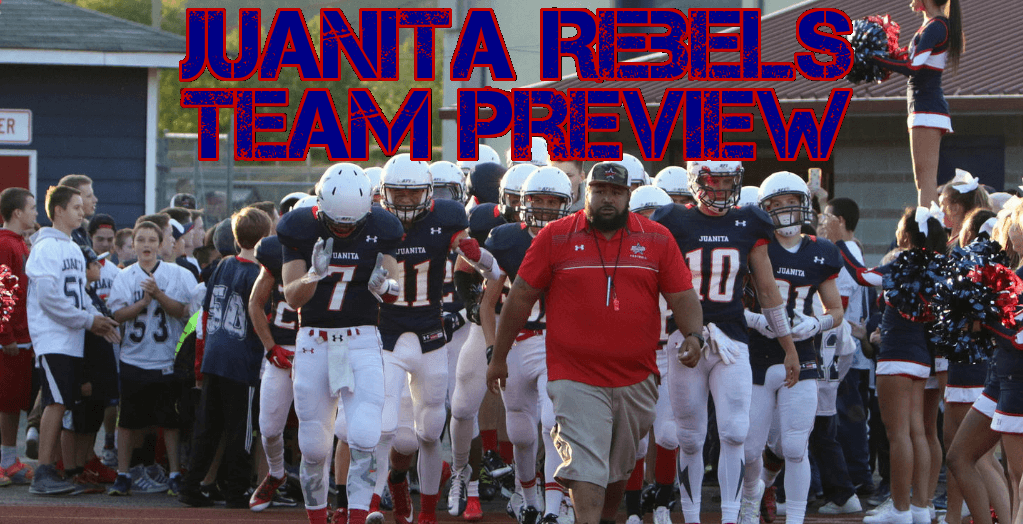 Key Players
RB/DB Salvon Ahmed (5'11", 190, '17) – Ahmed is one of the most dynamic players in the state. He's got outstanding speed and the ability to make plays on either side of the ball. He's got offers from schools across the country and he'll be a big reason why Juanita could make a deep run in the state playoffs.
LB Dean Sise (6'1″, 185, '17) – Sise burst onto the scene as a junior last season as he finished with nearly 50 tackles, five sacks and 10 tackles-for-loss and he's expected to be one of the leaders of what could be a very good Rebels defense.
QB Dexter Mell (6'2″, 210, '17) – Mell patiently waited his turn under center for Juanita and this is his chance to shine. He's more of a classic pro-style quarterback, but he has the ability to run and make plays with his legs. For the past couple of years, Mell has also played linebacker, so he's tough as nails as well.
WR Sam Rice (5'9″, 175, '17) – With their passing attack being upgraded this fall, Mell will need to have some targets to throw to and Rice will lead the way. He's super-quick and the coaches loved his ability to come up with big catches in clutch situations.
DE Christian Blackburn (6'2″, 210, '17) – Great football smarts, physical play and the ability to hold the edge are the reason that Blackburn is counted on by the Rebels' coaching staff to get the job done up front.
Overview
Juanita head coach Lele Te'o's team returns many of the key players from last season's 9-3 squad, but they have two very important players they need to find replacements for — QB Tavin Montgomery and S/WR Makiah Gilmer.
Quarterback Dexter Mell (6'2″, 210, '17) has waited patiently for his chance to take the reigns of Juanita's offensive attack. He has seen plenty of reps while alternating with Montgomery his first three years.
Mell has a strong arm and the ability to make plays with his legs, but he's more of a classic drop-back quarterback who will be counted on to make quick decisions and not make mistakes.
Helping Mell settle into the starter's role at QB will be one of the top athletes in the state.
Senior TB Salvon Ahmed (5'11", 190, '17) rushed for 1,700 yard and 29 touchdowns last season and Juanita hopes he puts up similar numbers in his swan song this fall.
Backing up Ahmed will be Andrez Trahan (5'8″, 180, '18) and speedster who the coaches are very excited to get on the field.
Sam Rice (5'9″, 175, '17) is the top wideout and he's a good one, but don't sleep on J.D. Worcester (6'3″, 170, '18). He's a player who the coaches think could be pretty special once he gets regular reps.
Senior Dean Sise (6'1″, 185, '17) is a better linebacker, but the coaches also like to get him the ball in different ways — handoffs, short and intermediate passes — and let him do things with the ball in his hands as well.
Along the offensive line, center Romey Sasouvong (5'9″, 230, '17) is a two-year starter who makes all of the calls and is the unquestioned leader of the group.
The Rebels flip their tackles, depending on their formation, so strong tackle Gavin Vodopich (6'2″, 210, '17) and weak tackle Palmer Sumner (6'6″, 315, '18) will play on both ends of the line at different times.
Expect Sumner to garner attention from colleges after they get a look at what he can do this fall.
Along the defense, the Rebels will count on senior defensive end Christian Blackburn (6'2″, 210, '17) to apply pressure from his spot while Jaoa Nascimento (6'3″, 300, '18) will be counted on to clog the middle vs. the run and to collapse the pocket, using his quickness and natural strength to cause issues for opposing offenses.
Sise is a stalwart at linebacker, able to do pretty much anything the coaches ask him to do. In passing downs, he'll be counted on as an edge rusher as well.
The coaches really like what Kieran Jones (6'0″, 190, '17) brings to the table as a leader at middle linebacker as well.
On the secondary, Ahmed will man one of the corner spots while Tanner Peterson (5'11, 185, '17) and Giovanni Caggiano (5'10", 180, '18) will handle the safety spots.
Ahmed will be counted on to lock down one side of the field with his ability to battle one-on-one with almost anyone in the state.
Peterson returns after taking a year off from football and he's the most instinctive of the defensive backs with the ability to go up and make plays on the ball in the air while Caggiano is a natural in-the-box safety who gets downhill quickly and has no problem sticking his nose in against the run.
The Bottom Line: Entering his third year as the head coach of the Rebels, the expectations are pretty high for Te'o's team. The Rebels has speed, size and talent all over the roster and with the off-the-field concerns at Bellevue, Juanita has to considered the odds-on favorite to win the Kingco 3A and make a deep run in the state playoffs. Last season, they were blown out by Blanchet in the state quarterfinals, but this year the goal has to be to make it to the state semis at the very least with an outside shot at playing for the state title if things break their way.
Key Games
@ Bishop Blanchet (9/16)
Vs. Lake Washington (10/7)
Vs. Redmond (10/14)