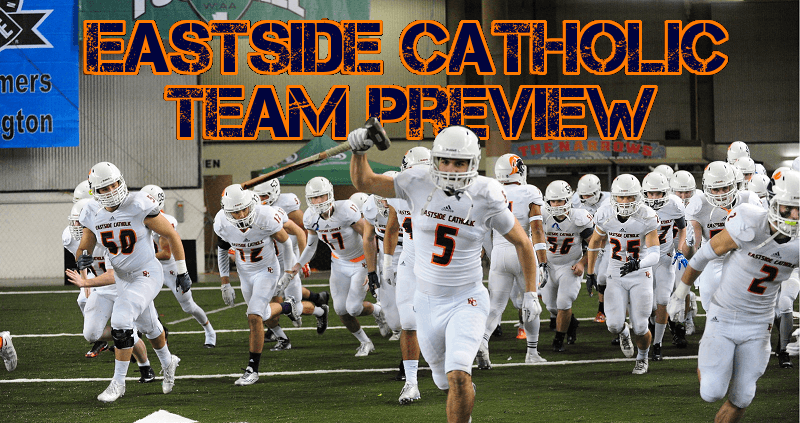 Key Players
TE Hunter Bryant (6'3″, 235. '17) – Arguably the best football player in the state of Washington, Bryant had his choice of schools up and down the West Coast, ultimately choosing Washington over UCLA. He is big, athletic and strong, but he's also got soft hands and he can beat you deep if you aren't careful.
ATH Chris Lefau (6'0″, 225, '17) – Lefau got most of his work at tailback last season, but he'll see an expanded role this fall with him moving into the slot where he's a devastating matchup vs. smaller defensive backs.
OL Brody McKnight (6'3″, 310, '17) – McKnight will be a four-year starter for the Crusaders before he graduates and he could be the best offensive lineman to ever come through their program. Big, smart and versatile, McKnight has played all five positions along the offensive line, but he'll be at left tackle this fall.
DB Malik Putney (6'1″, 195, '18) – Impressive looking defensive back prospect with a ton of upside. The coaches love his aggressiveness and think he could be a star over the next two years.
LB Ryan Taylor (6'2″, 235, '18) – Taylor is big and physical and he can make plays all over the field. The coaches will use him in different ways — as a blitzer, as a run-stuffer and off the edge as a pass rusher — and he's the type of athlete that is up to the task.
Overview
It's been an unbelievable run for Eastside Catholic head coach Jeremy Thielbahr. He's won the past two state championships and been in the final game of the year three more times.
While things are rolling for the Crusaders right now and they look poised for yet another run to the state championship game, they have some holes to fill after losing several key players to graduation.
Junior QB Zach Lewis (6'0″, 185, '18) has waited his turn behind Harley Kirsch and now he'll get the chance to lead the offense.
Lewis is a heady quarterback who really impressed the coaches with his knowledge of their system despite the lack of playing time he's received over the past two years.
At Lewis' disposal when he drops back to pass will be one of the state's best players in Hunter Bryant (6'3″, 235, '17).
The Crusader coaching staff will use Bryant in multiple ways, but he's at his best being a mismatch with defensive backs who are too small to outmuscle him and linebackers who are too slow to cover him. As a junior last season, Bryant was third in receptions with 48, but he led EC in yardage (1,137) and touchdown receptions (17).
Expect more of the same from him this fall.
Fellow senior Chris Lefau (6'0″, 225, '17) will see an expanded role this season, playing multiple positions — running back, tight end and wide receiver — while creating problems on the outside for defenses that try to tackle him in open space.
Marcus Stoebner (6'0″, 200, '18) and David Pritchard (5'11", 175, '18), a speedster who can stretch the field, are the other starters in the Crusaders' spread attack.
At tailback, while Lefau will get some carries, Tyler Folkes (5'11", 205, '18) will be the workhorse and he has a chance to be a pretty special player.
Along the offensive line, left tackle Brody McKnight (6'3″, 310, '17) is the unquestioned leader of what will be a young, but very talented group.
Senior Koa Roberts (6'2″, 265, '17) will handle right tackle duties while the guards will likely be sophomore Jason Medeiros (6'3″, 250, '19) and senior Nate Smith (6'2″, 275), but Ethan England (6'1″, 250, '17) and Christian Amador (6'0″, 245, '17) are also battling for playing time at guard as well.
The coaches are very excited about the potential of Jackson Reed (6'3, 260, '18) at center and they feel he will be a leader inside for them once the season rolls around.
Defensively, the Crusaders run a multiple scheme that typically features an odd front although to pigeon hole them would be folly.
Ephriam Vea (6'1″, 260, '18) moves from nose tackle to defensive end and the coaches feel he can be a real stalwart at that spot.
Will Vea (6'1, 255, '19), his younger brother, will take over at nose tackle and he's the consummate two-gap, run-stopper who can also get some pressure on the quarterback.
The other defensive end spot will be held down by Cade Peacock (6'2″, 190, '18).
The linebackers are a fast and physical group that is led by SAM Steven Moran (6'2″, 205, '17), the only returning starter of the group, who is heady and can pursue all over the field.
LB Ryan Taylor (6'2″, 235, '18) moves to linebacker after playing most of his sophomore season at defensive end.
Taylor runs really well and he's a great athlete who should be able to put up big tackle numbers from the MIK linebacker spot.
Senior Talon Davis (5'11", 195, '17), who will play the WIL spot, isn't very big, but he's smart and he can run.
The secondary features a lot of playmakers and young men who will be the key to how the defense does this season.
The "Striker" spot, which UW-bound Brandon Wellington held down last season, is the feature position on the defense and that will be held down by Malik Putney (6'1″, 195, '18) who is super-aggressive and very physical.
Free safety Andrew Peterson (6'0″, 200, '19) has some big shoes to fill now that John Webster has moved on to the Ivy League, but the coaches are really excited about what he can do after getting a look at him this spring.
Jonathan Kvech (6'2″, 200, '17) is a solid player who will handle strong safety duties while J.J. Luger (5'9″, 185, '17), a returning starter, and Owen Stout (5'11", 160, '18) will be the starters at corner.
The Bottom Line: Even with all of the attrition due to graduation, how can you not pick Eastside Catholic to three-peat? They have one of the best players in the state in Bryant to go along with a defense that is athletic and physical and they will be tested this year with a schedule that features the reigning 4A state champs Gonzaga Prep as well as Skyview, one of the powerhouse programs from the Vancouver area, in their out-of-league schedule. Coach Thielbahr's staff has had plenty of opportunities to leave for other jobs, but they've stayed on to see how long they can keep this thing rolling. It won't be easy, but we think they'll be one of the two teams battling the first week of December in the Tacoma Dome for the state title.
Key Games
vs. Gonzaga Prep (9/2)
vs. Skyview (9/10)
@ O'Dea (10/14)