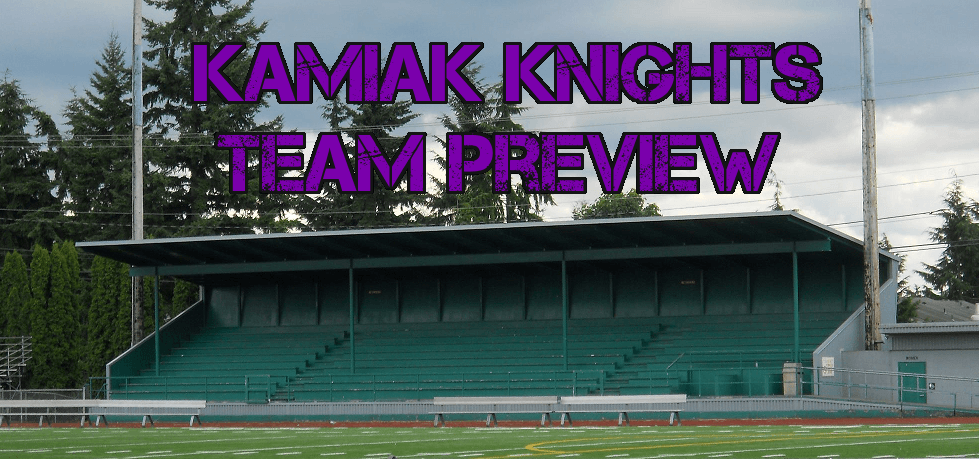 Key Players
OL/DL Oliver Dilts (6-2, 290, '17) – Two-way lineman that is being counted on to be a leader on both sides of the ball.
DE Joe Kamp (5'11", 220, '17) – Camp can really get after the quarterback. He has an outstanding motor and the potential is there for him to have an All-WESCO type senior season.
RB/LB Ben Barton (5'10", 190, '18) – Barton is an impact player on both sides of the ball. He'll get quite a few carries at tailback while handling starting outside linebacker duties on defense.
RB/CB Josh Binda (5'9″, 185, '17) – Instinctive runner who is explosive and tough. He's a downhill runner who rarely goes down with the first hit. Binda will also start at corner where he was solid as a junior.
QB Matt Merk (6'2″, 195, '19) – Merk is a rising star in the Pacific Northwest quarterback ranks, but he has yet to really show what he can do since he only got meaningful reps in one game last season. Merk can make all of the throws and he carries himself with confidence and a bit of a swagger. It'll be exciting to see how he progresses over the next three years.
Overview
Head coach Dan Mack and his staff always produce tough teams that play a hard and physical brand of football.
While that shouldn't change this year, they are very young at several positions, so there are still a lot of things that need to sort themselves out over the season.
At quarterback, Mack and his staff are excited about the future of Matt Merk (6'2″, 195, '19). The youngster started one game last season while seeing action in several other games, but the offense is his now and it'll be exciting to see what he can do.
The sophomore can make all of the throws and he has a gunslinger's mentality, so he should be fun to watch.
When Merk drops back to pass, receivers Travis Rucker (6'0″, 180, '17) and Raul Zarate (5'7″, 155, '17) and tight end P.J. Luckovich (6'2″, 190, '18) will be the main targets.
Rucker has good hands and size while Zarate is more of a slot with outstanding quickness.
Luckovich has big shoes to fill with the graduation of Nate Shubert, but the coaches think he has what it takes to be a solid contributor on offense this season.
The hope for the coaches is that they can ease Merk into the fold and what will go a long way in allowing that will be a strong running game. Luckily for the Knights, they have two very good tailbacks that can carry the load.
Josh Binda (5'9″, 185, '17) will be the starter and he has 1,000-yard potential while Ben Barton (5'10", 190, '18), an underclassmen, will be used to spell Binda at times while also being a nice compliment to him in certain formations.
Along the offensive line, Mack and his staff have a lot of questions to answer, but the unquestioned leader of the group is guard Oliver Dilts (6-2, 290, '17).
The coaches like what they've seen out of right tackle Andrew Murphy (6'1″, 265, '18) while center Matt Casson (5'10", 230, '19) is a youngster they are very excited about.
The defensive line is more settled with Dilts playing quite a bit and Joe Kamp (5'11", 220, '17) coming off the edge from his defensive end spot. Isaiah Shigematsu (5'10", 210, '17) is a tough player who can hold the edge at the other defensive end spot.
The linebackers will be led by Barton from his outside linebacker spot and John Finnerty (5'10", 225, '17) from the middle.
Binda will be at one of the cornerback spots in the secondary while Jaden Bollschweiler (5'10", 165, '17) returns as the enforcer at strong safety.
The Bottom Line: Mack's teams are always a tough out, even when they are down. While they shouldn't be down this fall, they definitely have some questions along the offensive line and in the secondary and that could make things tough on them. However, with a good young quarterback and two solid tailbacks, they should be able to score. With the revamped WESCO conference, the goal has to be to compete to win the league and then see what happens in the state playoffs. The future is bright for the Knights, but they'll need to be patient and wait for some of the starters to mature and progress before they can make some noise in the postseason.
Key Games
vs. Mariner (9/23)
@ Lake Stevens (10/14)
@ Glacier Peak (10/21)