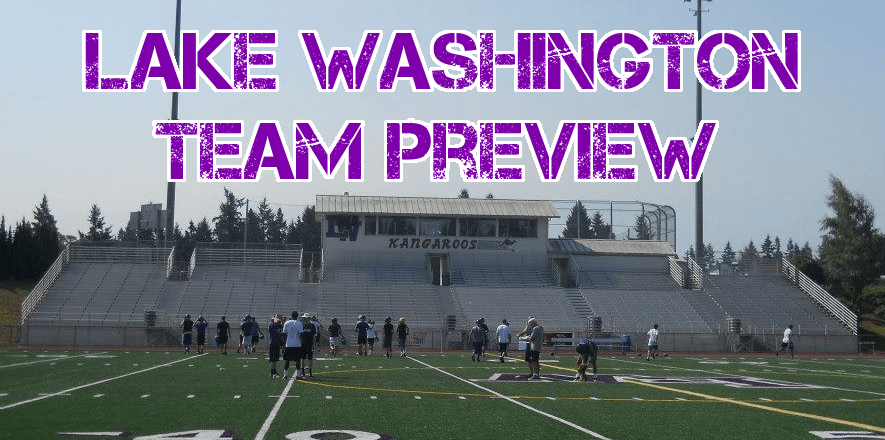 Key Players
Sean Gordon TE/DE ('17, 6'3 201) – Gordon is a standout on both sides of the ball and one of Kingco 3A's best athletes. He plays a physical game with a non-stop motor.
Adam Long QB ('17, 6'1 180) – Long is one of the state's more unknown QB's. He does a great job commanding the offense and just really doesn't make mistakes.
Will Pliska OL ('18, 6'5 275) – Pliska is a name you will want to know. He has good feet, is athletic and has tremendous upside. D1 coaches will be sniffing around Kang's camp for a look.
Caleb Rickels HB/S ('17, 6'0, 185) – Rickels will be a three-year starter and all-conference leader in the defensive backfield. He is a great open field tackler and will be a key member to the offense out of the backfield.
Colby Coco WR/S ('17, 5'10 170) – Coco makes the move from CB to S this year, and should have no problems. He is a dynamic playmaker on both sides of the ball and plays with great effort.
Overview
Lake Washington was a forgotten program for most of the 2000's and before head coach A.J. Parnell was hired in 2014, they had gone through four coaches in eight years. The Kangaroos went 5-5 in Parnell's first year, followed by 6-4 last season that included a trip to the Week Ten playoffs.
Things have changed on top of Rose Hill in Kirkland. The number of athletes coming out to play has boomed as Parnell and his staff have installed their "Always Rising" philosophy.
This year they lost 27 seniors to graduation, but return a solid group of veterans led by senior QB Adam Long . This is his third year in the system an Long looks like he is ready for a breakout season.
Caleb Rickels is an impact player on offense for the Kangs, but look for three backs to see time as Reece Rudolph ('17, 6'2 187) and Ryan Clifford ('18, 5'6 155) should both grab some carries. Rudolph missed most of his junior year to injury and is ready for a big year, while Clifford is an explosive playmaker that will be counted on in all three phases.
Long should have plenty of options in the passing game, as TE Sean Gordon and WR Colby Coco will be counted on to be big time contributors. Shelby Merkatz ('17, 5'10 160) is one of Long's favorite targets and doubles as the team's long snapper.
Look for TE Brett Walker ('17) to factor in offensively as a very good run blocker and capable pass catcher. WR Cody Wilson ('18, 5'8 164) is one of the fastest players on the team and will help stretch a defense, while Jobany Vizcarra ('17, 5'9 155) adds even more depth to the skill positions.
LT Will Pliska will be the focal point of a young line group. Both sides of the ball are rather inexperienced, but should be talented and very tough for the next few years. Returning alongside Pliska is G Alex Garcia ('17, 6'0 248). Garcia is physical at the point of attack and brings a nasty nature the Kangs seem to love.
Also seeing time on the line will be Walterius Jones ('18, 5'11" 275) and Jacob Smith ('18). Jones, the son of NFL Hall of Famer Walter Jones, missed most of his sophomore year to injury and is looking to ounce back this season. Smith is someone the coaches are excited about saying he had a great offseason and is looking to start on the OL.
Expect to see Sean Gordon and Brett Walker go both ways as they with play also play DE, and should be a disruptive duo.
Setting the tone at linebacker for Lake Washington will be Rudy Wilkes ('17, 6'2″ 190). He was all-league last year and will be counted on to be the rock in the middle of the defense.
The defensive backfield has some real playmakers that will all be going two-way for the Kangs.
They are led by Caleb Rickels and Colby Coco at safety. Both athletes are good against in pass defense and run support. At corner you will likely see a Jobany Vizcarra , Ryan Clifford and Cody Wilson all seeing time.
When the time comes to kick field goals look for Connor Macomber ('17, 5'10 145) to send it through. He is a reliable leg and made some big kicks for the Kangs last season.
The Bottom Line: If the Kangs can gel on the offensive line they could really surprise some people. They play a tough brand of ball-control football that can really wear down their opponent. The Kangs come with a hit first, ask questions later defense that should be fun to watch.
Key Games
10/7 @ Juanita
10/14 vs Interlake
10/21 @ Mercer Island