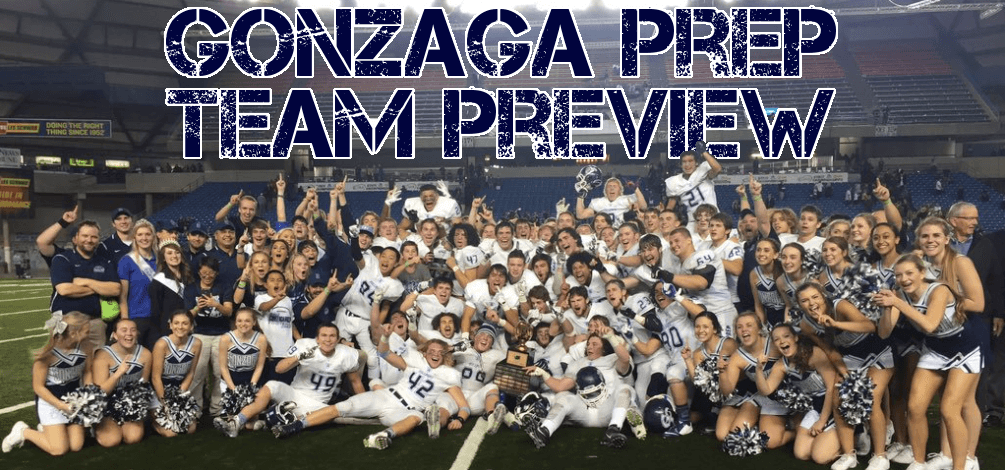 Key Players
WR Devin Culp (6'4″, 220, '18) – Culp's upside is off-the-charts. He's a huge target with a catch radius that most receivers, even those in the NFL, would be envious of. He's only playing his third season of football, so he still has a long way to go before he reaches his full potential, but expect the Oregon commit to be the go-to receiver for the Bullpups.
LB Taj Hoard (5'11", 220, '17) – There might not be a more instinctive linebacker in the state of Washington this year. Hoard is strong against the run and he's got great short-area quickness that make him almost impossible to block. He's the quarterback of the Bullpups' defense and he has an outside shot at earning All-State honors if he has the season most think he can.
CB Armani Marsh (5'10", 185, '17) – Marsh isn't the biggest from a stature standpoint, but he plays big, rarely backing off of any receiver that teams throw in front of him. He'll be counted on to lock down one side of the field for the Bullpups when their defense is on the field.
RB/CB Sam Lockett (6'0″, 180, '18) – A big-time corner prospect with outstanding size and athleticism. While Marsh has the experience and cover skills to be one of the best in state, Lockett's ceiling may be even higher.
OL Cody Hattenburg (6'3″, 280, '17) – Hattenburg is aggressive and he dominated as a junior up front. He sets the tone for everything up front and he'll be the leader of what should be a talented offensive line.
Overview
The Bullpups are coming off their first state championship since 1986 and head coach Dave McKenna and his staff have a lot of talent returning, but they will need to find some answers at a couple of positions in order to return to the Tacoma Dome the first weekend of December.
Liam Bell ran Gonzaga Prep's Wing-T offense perfectly, but he wasn't just a guy who could make good decisions when handing the ball off. He was also a very good passer and that kept teams honest.
This fall, McKenna and his staff will need to find Bell's replacement and that should be decided in fall camp with a battle between Ryan Gross (5'11", 170, '17), last year's backup, and Seth Kuykendall (6'0″, 170, '17), who was a pitcher for the baseball team.
Both are about the same athletically and they both can make plays with the legs and their arms, the coaches will need to see who makes the best decisions and takes care of the ball the best.
The Bullpups have featured some very good runners in recent years including current Tennessee Titans tailback Bishop Sankey and junior Kasey Anthony (5'6″, 170, '18) is the next in line. While he's not the athlete some of the other top runners are, he's got great vision and the ability to make guys miss in space.
Backing him up with be Sam Lockett (6'0″, 180, '18), a big, athletic playmaker who is standout on the defensive side of the ball.
The receivers typically don't get a lot of chances to make plays in Prep's offense, but this year that trend might change a bit.
Junior Devin Culp (6'4″, 220, '18) is an absolute freak athletically. He can jump out of the gym and he runs very well for a young man of his dimensions. Once he figures out how to run routes and set up defensive backs, look out. He should see at least five or six targets per game and if he just converts half of those, he could be a difference-maker.
In the spring, Culp did most of his work outside and that appears to be where the coaches like him the best, but he's also a player who could take reps out of the slot.
Charlie Larson (6'0″, 180, '17) is a great outside receiver and that's where he'll do most of his damage while Max Johnson (5'11", 170, '17) is a speedster with the ability to stretch the field.
The offensive line is definitely one of the strengths of the team and it's led by senior guard Cody Hattenburg (6'3″, 280, '17), a mauler who plays a very physical brand of football.
Kendall Brock (6'2″, 275, '17) and Shane Eugenio (6'4″, 250, '17) are solid tackles who are adept at getting down the field as blockers.
Senior guard John Perko (6'4″, 245, '18) is the fourth returning starter who is solid and steady.
While the Bullpups look like they should be pretty good offensively, assuming their quarterback spot gets figured out, it's their defense that should be the strongest side of the ball with lots of returning starters.
Up front, GP loses one of the best defensive players in the state with Evan Weaver going to play for Cal-Berkeley.
DE Matt Simpson (6'2″, 230, '17) and DT Carsten Schmidt (6'1″, 245, '17) are senior leaders with starting experience and they will be joined in one form or another by Phillip Reynolds (6'0″, 240, '18) and Caden Townsend (6'4″, 245, '17).
Last season, middle linebacker Taj Hoard (5'11", 220, '17) totaled nearly 120 tackles, 14.5 sacks, one interception and five fumble recoveries. He's instinctive and his leadership is invaluable to the Bullpup defense.
Junior Hunter McKenna (5'10", 195, '18) handles outside linebacker duties and he's solid in coverage and a sure-tackler.
Gonzaga Prep could have the best set of cover corners in the state this year with Armani Marsh (5'10", 185, '17) and Lockett.
Marsh locks things down on the open side of the field, handling his duties in coverage while also being much better against the run than most corners.
Lockett is a special talent and could be one of the best defensive backs in the state before it's all said and done.
As far as the safeties, McKenna and his staff have two more good ones in Michael Pablo (5'11", 155, '18) and Kea Vargas (6'1″, 185, '17). Both are solid in coverage with good range and the ability to cover and come up hard in run support.
The Bottom Line: Now that the Bullpups are the defending state champs, everyone is gunning for them and they have a very tough schedule, especially at the start of the season. However, with McKenna's steady hand a solid coaching staff that has a lot of talent and experience at its disposal, don't be surprised if GP isn't back in the Tacoma Dome this year with a chance at a repeat.
Key Games
@ Eastside Catholic (9/2)
vs. Skyline (9/9)
vs. Central Valley (10/28)