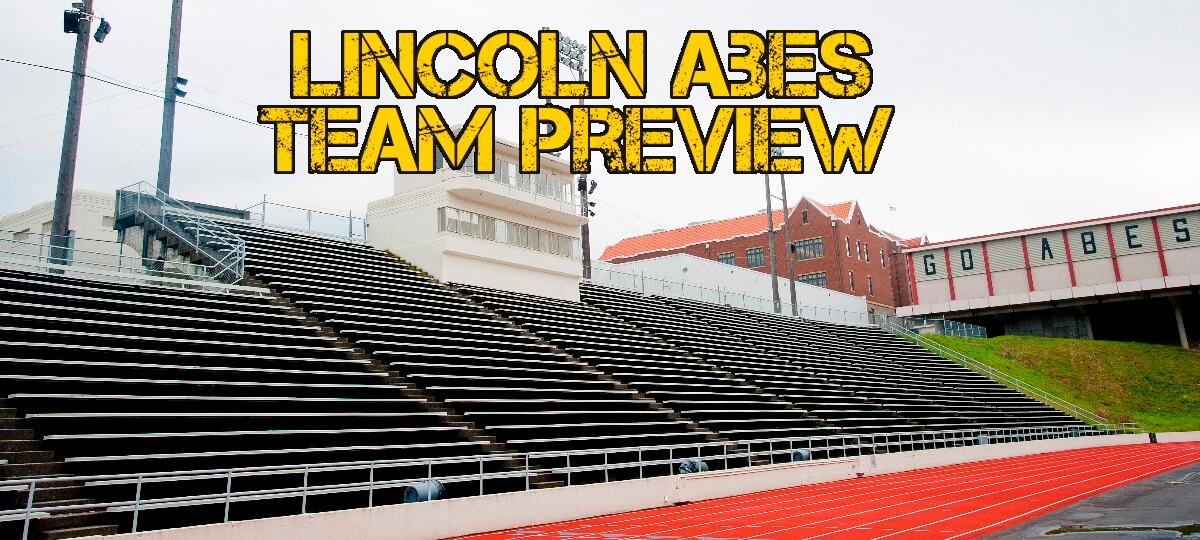 Key Players
OL Quazzel White (6'4″, 305, '17) – White has started for three years and he has the look of a standout guard at the next level, but with the Abes, he'll handle left tackle duties, using his quick feet and athleticism to fend off oncoming rushers.
QB Joey Sinclair (5'11", 160, '17) – Sinclair is an outstanding athlete, so the Lincoln coaches have the option of using him in many different ways. He's so athletic that most colleges are looking at him as a receiver or defensive back. He'll be tasked with leading the Lincoln passing attack this fall.
OL/DL Giovonni White (6'2″, 280, '19) – White is one of the elite line prospects in the state, able to have an impact on both sides of the ball. He's athletic and a quick learner and the coaches think his potential is off the charts.
CB/WR Patrick Rogers (5'10", 170, '17) – Super-quick in and out of his breaks, Rogers is a lock-down corner who will be tasked with shutting down the opponents' top receiver each week.
LB Teshawn Seu (5'9″, 200, '18) – Returning All-League and All-City linebacker who has great instincts and is a leader for the defense.
Overview
In year two of the Masaki Matsumoto regime, the Abes will have a different look offensively while sporting one of the most talented teams in the region.
Gone is the read option that was so prevelant before and it will be replaced with the Air Raid offense, hoping to take advantage of a simplified offensive attack that will allow their talented "skill" position players to just play instead of thinking.
To be sure, with quarterback Joey Sinclair (5'11", 160, '17) leading the attack, Lincoln will continue to use the read option at least a little bit, but expect Sinclair to be much more of a point guard, distributing the ball to the elite athletes on the edges of the offense.
When Sinclair drops back, he'll have lots of talented targets to throw to.
Leading the way will be Patrick Rogers (5'10", 170, '17), a solid receiver with good hands and quickness.
Joining him will be Camron Deloney (6'0″, 195, '17), Brandin Porter (6'5″, 221, '17) and Ethan Gunsauls (5'10", 170, '17).
While they may not run the ball as much as they had before, don't sleep on the ground attack that will be led by junior tailback Tristian Kwon (6'0″, 175, '18). While he won't get as many touches as he would have in other years, Kwon can wear down a defense with his tough-running style and he could be line for over 800 yards and 10 scores as long as he stays healthy.
The offensive line is the strength of the team and they have three of the five spots already locked up.
At left tackle, senior Quazzel White (6'4″, 305, '17) just goes about his business. He's not flashy, but he's a grinder who dominates the guys across from him on a regular basis.
Sophomore Giovonni White (6'2″, 280, '19), no relation to Quazzel, does most of his damage on the defensive side of the ball, but he's also a standout from his right guard spot and he could be a two-way All-League linemen if he progresses like most think he will.
The young man to really keep an eye on this fall is junior center Ezekiel Sayavong (6'0″, 265, '18). He was a First Team All-Leaguer as a sophomore, using his natural strength and smarts to hold up against even the biggest defensive linemen the Abes faced last season.
The other two spots are pretty much up for grabs but there are some intriguing players who could find their way into the starting lineup including sophomore Jayden Simon (6'4″, 275, '19), a young man who has the skills to be a dominant force once he puts it all together.
Giovonni White and Sayavong are the two mainstays along the front of Lincoln's 3-4 scheme and the coaches are very excited to see what L.J. Lovelace (6'2″, 225, '17), a transfer from Foss, can do from his defensive end spot.
The Lincoln linebackers have a chance to be one of the best groupings in the state.
Junior Teshawn Seu (5'9″, 200, '18) had a great sophomore season and he's a leader from his inside linebacker spot, but Mahlon Slaughter (5'11", 210, '18) is another standout with the ability to make plays all over the field.
Alex Gillies (6'2″, 205, '18) is an elite outside linebacker who can cover and he's got great range, able to make tackles even when plays go away from him and he'll be joined by Alijah Sokimi (6'1″, 185, '18).
The secondary should be pretty good this season and they will be led by Rogers who is one of the better cover corners in the state.
Kwon and Mose Fasavalu (5'11", 185, '18) are a solid twosome who can cover, but also play a physical brand of football.
The Bottom Line: With the new Pierce County League, it's hard to say how things will play out, but the Abes certainly, at least on paper, look like the class of the league. They are strong along both lines, they have athleticism and speed at almost every position and with Matsumoto's steady hand, they should always show up and play hard. Expect Lincoln to make a move in the playoffs this season and for them to push for a spot in the state semifinals with an outside shot at making it to the championship game if things fall their way.
Key Games
@ O'Dea (9/2)
vs. Lakes (9/23)
@ Stadium (10/28)