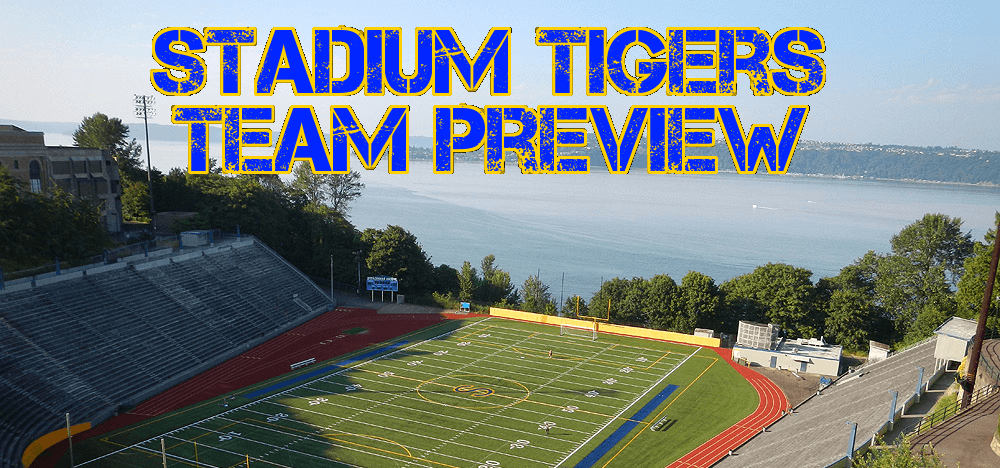 Key Players
RB Jamon Chambers (5'8″, 168, '17) – He's not the biggest back, but he puts up big numbers — 1,435 yards rushing and 16 touchdowns — using his outstanding vision and speed.
QB Hunter Wendling (5'11", 150, '18) – Wendling completed 56.8% of his passes for 2,131 yards with 11 touchdowns and eight picks as a sophomore last season. He's smart, athletic and a leader and the Stadium coaches think he's ready to take that next step.
OT John Blasco (6'6″, 300, '17) – An Honorable Mention All-League selection last season, Blasco has the quick feet and size to be a dominant force at left tackle for the Tigers this season.
WR/CB Max Novak (6'0″, 170, '17) – Novak will play both ways and he's a leader for Stadium on the field. He's strong when the ball is in the air and he's very instinctive.
LB Shane Lincoln (5'10", 195, '17) – Head coach Thomas Ford calls Lincoln the "heart and sould" of the defense. He's smart and plays much more physical than you would expect from a guy his size.
Overview
Thomas Ford enters his third season as the head coach at Stadium and he's got a team that could finally get into the playoffs, something that the Tigers haven't done in quite some time.
In order for that to happen, they will need junior quarterback Hunter Wendling (5'11", 150, '18) to take that next step. As a first-time starter last season, Wendling completed right around 57% of his passes for over 2,100 yards with 11 touchdowns and eight interceptions.
The coaches expect him improve in all three areas, hoping he completes over 60% of his throws while also cutting his picks in half and, at the very least, doubling his touchdown throws.
When they want to run the ball, senior tailback Jamon Chambers (5'8″, 168, '17) is a great option to turn to, using his outstanding quickness, speed and vision to rush for close to 1,500 yards and 16 touchdowns last season.
Wendling will also get some carries in Stadium's spread-option attack, but the other ballcarriers worth mentioning are Nazje Briscoe (5'10", 170, '19) and Trey Caldwell (5'6″, 150, '17).
The receivers are an experienced group that are led by Max Novak (6'0″, 170, '17). He finished with a team-leading 47 receptions for 671 yards and five scores last season and he should put up even bigger numbers as a senior this fall.
Joining him will be Ryan Naylor (6'3″, 180, '17) and Dylan Hartman (6'4″, 190, '18), two receivers with size and good hands, as well as Xavier Mason (5'11", 180, '19) and Tyler Oliver (5'11", 150, '18) who both do most of their damage out of the slot.
The offensive line has plenty of size and talent and they are led by John Blasco (6'6″, 300, '17) from his left tackle spot.
Blasco has had an outstanding offseason and he's got all of the skills to be one of the better linemen in the state this season.
Joining him will be Bailey Elder (6'5″, 285, '19) at right tackle and he's an offensive linemen that recruitniks will be talking about in the next few years.
The other starters include Bernard Tauaese (6'2″, 290, '17) at right guard, Ben Yokoyama (6'3″. 230, '17) at left guard and Gabe Lavoie (5'8″, 180, '18) at center.
First year defensive coordinator Darrin Reeves has installed a 4-2-5 scheme that will have a lot of size and speed.
The front four is one of the strenghts of the Tigers with Yokoyama and Elijah Powers (6'3″, 225, '17) outside and Tauaese and Brandon Kennedy (5'10", 308, '17) inside.
Powers is a kid who the coaches think could have a breakout season.
Shane Lincoln (5'10", 195, '17) is the leader of the defense at the linebacker spot. He totaled over 120 tackles as a junior last season and the coaches rely on him to make all of the calls and to be the playmaker from the middle of the defense.
Joining him will be Joel Sourichanh (5'10", 200, '19), a youngster who the coaches feel has a lot of potential.
The secondary is loaded with experience and they have six players who will be regulars in the rotation.
At corner, Da'shawn Webber (5'10", 140, '18), Jose Mascareno (5'11", 170, '17) and Novak while Jalen Scott (5'9″, 180, '17), the headliner of the group who had six interceptions as a junior last season, Briscoe and Caldwell will handle safety duties.
The Bottom Line: Stadium is definitely a team on the rise. They have a good coaching staff, a lot of speed, size and talent and they return a lot of experience from last season. The final piece to the puzzle is winning close games. Last season the Tigers lost to Fife and Yelm by a combined total of seven points and if they were to have won those games, there is a great chance they would have made the post season. Ford and his staff know they need to get over the hump and we think they have a chance to make the post season this fall if things fall the right way.
Key Games
@ Bonney Lake (9/30)
@ Lakes (10/21)
vs. Lincoln (10/28)